Dir: Siti Kamaluddin. Brunei. 2014. 90mins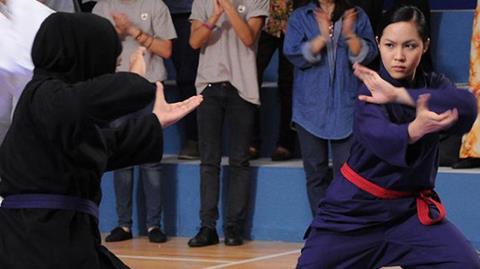 Much of Yasmine may well be very familiar to those who have seen family-orientated martial arts films (or any of the Karate Kid films for that matter), but what makes Yasmine stand out is that it is one of the first films to emerge from Brunei, offering a rare glimpse into the culture of a country rarely seen on film. The fact that it is about a teen girl learning the martial art of silat – which has been given much profile thanks to Gareth Evans' The Raid films – could also help pique interest.
The film's real find is the vibrant Liyana Yus, whose personality goes a long way to carrying the film.
It is only the second commercially produced feature film to come from the South-East Asian sovereign state, and while it offers nothing original in terms of story or direction, it is given a feisty heart thanks to the charming lead performance by Liyana Yus, while the fact that action scenes are directed by regular Jackie Chan collaborator Chan Man Ching from Hong Kong will mean it could well be taken a little more seriously by film fight fans. The film screened at the PiFan and Fantasia Film Festivals.
In truth it owes much to the Karate Kid films (with a little old-fashioned high school coming-of-age schtick for good measure) as it follows the misadventures of sweet-natured and irrepressibly enthusiastic Yasmine (Yus). She had been happily planning high school with her friends (matching jackets etc), but her father Fahri (Reza Rahadian) tells her he can't afford the school she wants to go and enrolls her in a modest but strict Muslim school where her red headscarf means she rather stands out.
She joins the school's rather inept silat after-school class with loner Ali (Roy Songkono) and chunky Nadiah (Nadiah Wahid), who just wants to lose weight. But this is against the wishes of her father and he signs her up with after school Koran classes. But Yasmine's desire for silat is mainly because her childhood sweetheart – and Silat champ – Adi (Aryl Falak) has arrived home, but (to Yasmine's annoyance) started romancing her former classmate and archrival Dewi (Mentari de Marelle), who fights for her school silat team.
The film follows a familiar plot as Yasmine and her band search for the right silat teacher – eventually arriving at wheelchair bound Jamal (Agus Kuncoro) – with Al slowly falling for her, while all she has in her mind is reaching the school's silat final and a showdown with Dewi.
It is nice to see Yasmine's graceful martial arts approach as compared to Nadiah's bullish attacks, but the fight scenes are rather lightweight compared to other Silat films. But then Yasmine is very much a film aimed at youngsters and families.
The film's real find is the vibrant Liyana Yus, whose personality goes a long way to carrying the film. Though she had some martial arts training, apparently she devoted several months to learning 'kuntau', Brunei's form of silat, and she certainly looks the part on screen. There are some pacing and structure problems – it focuses on teen turmoils for the first half hour, with the silat a late-ish addition – and the fight scenes may lack a real sense of edge, but it is intriguing as a look at the lives of young people in Brunei (she drives a cool old red Mini and Ali has a big new SUV) who have the same teen angst issues as any California youngster.
Production company/sales: Origin Films, enquiries@originartistic.com
Producer: Khairuddin Kamaluddin
Action director: Chan Man Ching
Screenplay: Salman Aristo
Cinematography: James Teh
Editors: Cesa David Luckmansyah
Website: www.yasminethemovie.com
Main cast: Liyana Yus, Resa Rahadian, Mentari De Marelle, Roy Sungkono, Nadiah Wahid, Agus Kuncoro, Aryl Falak