Dir:Peyton Reed. US. 2008. 104 mins.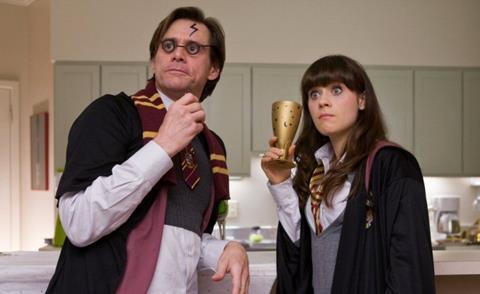 A likeable premise about a closed-off man who opens his life up to the chaos of the unknown gets lost in a sea of romantic-comedy complications in the intriguing misfire Yes Man. This Warner Bros. comedy finds star Jim Carrey trying to reconcile the wild-and-crazy-guy persona of his early career with the more grownup roles which have dotted his resume for the last 10 years. Though not always successful, the movie does prove that Carrey could evolve into a believable romantic interest, but only if he finally abandons the rubber-faced shenanigans for good.
Yes Man was a chance for Carrey to reclaim his early comedic star power, but he's a different actor now - still very talented but no longer the inspired, manic goofball.
Yes Man opens December 19 in the US and features Jim Carrey's first live-action comedic performance since Fun With Dick And Jane took $202 million worldwide in the same timeframe in 2005. The box-office performance here will probably be seen as a gauge to determine Carrey's enduring commercial potency, but the interesting unknown is how audiences will react to a Carrey comedy which is more of a date-night affair than a silly teen laugher.
Still reeling from his divorce three years ago, Carl (Jim Carrey) has shut himself off from life, finding myriad excuses to avoid hanging out with friends. But after meeting a self-help guru (Stamp) who advocates saying 'yes' to every request, Carl decides to give it a try, eventually crossing paths with a quirky, adventurous woman named Allison (Deschanel) and starting a relationship.
Based on Danny Wallace's humorous memoir about saying 'yes' for a year, Yes Man fictionalises the story but retains the central concept. In a way, Yes Man, directed by Peyton Reed (The Break-Up), recalls Carrey's earlier hit Liar Liar, except that in the earlier movie Carrey's lawyer character had to always tell the truth because of a spell placed on him. In Yes Man, Carl simply makes the decision to always say 'yes,' which creates an interesting thematic subtext - the necessity for people to reach out to the strangers around them in order to live life fully. Unfortunately, the movie isn't interested enough to explore this underlying theme in any meaningful way, instead utilising the altruistic 'yes' premise as merely a high-concept hook that creates endless (and often distracting) narrative hurdles.
For a mainstream Jim Carrey vehicle, Yes Man isn't particularly funny, although it does have a certain warmth to it. The Carrey of Ace Ventura and Liar Liar occasionally makes an appearance when Carl is in the midst of his impossible tasks - such as trying to stay upright after a night of binge drinking - but at 46, he seems too old for the slapstick hijinks. He's much more comfortable wooing Deschanel's character, showing some of the easy charm he first displayed in serious roles such as The Truman Show and Eternal Sunshine Of The Spotless Mind. Yes Man perhaps represents a chance for Carrey to reclaim his early comedic star power, but the simple fact is that he's a different actor now - still very talented but no longer the inspired, manic goofball.
For her part, Deschanel gives Alison a sarcastic spark while making her still seem lovable. There's more than a 15-year age difference between her and Carrey, which is noticeable throughout the film, but their shared playful spirit helps erase that gap somewhat. When the film doesn't get so wound up in the complications of Carl's 'yes' mantra, the two leads are immensely likable together. It's a shame, then, that that script, credited to three writers, has to resort to phoney obstacles to force them apart before the inevitable last-minute reconciliation.
To sign up for Screen's weekly Reviews Newsletter with all the week's new releases, international openings and full festival reviews delivered free to your mailbox every Friday, please click
HERE
Production companies
Heyday Films
Zanuck Company
Worldwide distribution
Warner Bros Pictures/Village Roadshow Pictures
Producers
Richard D. Zanuck
David Heyman
Screenplay
Nicholas Stoller
Jarrad Paul
Andrew Mogel
Based on the book by Danny Wallace
Cinematography
Robert Yeoman
Production designer
Andrew Laws
Editor
Craig Alpert
Music
Lyle Workman
Mark Oliver Everett
Main cast:
Jim Carrey
Zooey Deschanel
Bradley Cooper
John Michael Higgins
Terence Stamp
Rhys Darby
Danny Masterson
Fionnula Flanagan
Sasha Alexander
Molly Sims
Brent Briscoe
Rocky Carroll
John Cothran
Spencer Garrett