Dir/scr Kevin Smith. USA. 2008. 102 mi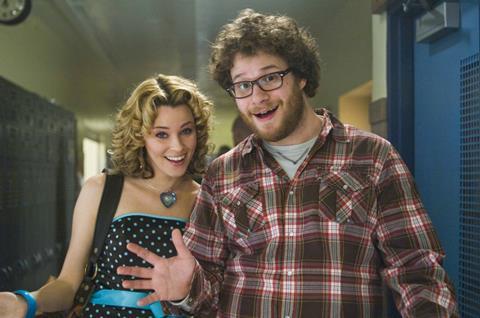 Kevin Smith is back and Seth Rogen's got 'em. Or at least that's how the ad copy should read for Smith's libidinous rom-com, Zack and Miri Make a Porno. While Elizabeth Banks is ostensibly knocking about the premises as Rogen's unexpected love interest, it is the cozy marriage of sensibilities between the director of Clerks and the co-writer/star of Superbad that gives this movie its particular go-for-the-groin, land-on-the-heart chemistry.
Smith has fashioned a smut-happy comedy that fits his game leading man like a prophylactic. If the raucous reception from younger press types at a Toronto screening is any indication, this R-rated comedy should provide an irresistible lure for audiences above and below the age requirement for parental accompaniment.
The film's titular filmmakers are a pair of down-at-the-heels roommates whose air of petulant intimacy belies a platonic relationship that extends back to high school. With a frigid Pittsburgh winter nipping at their noses and creditors snapping at their rears, Zack (Rogen) agrees to accompany Miri (Banks) to their tenth high school reunion, where each soothes their woes by hitting on former classmates.
While making conversation with a gay porn actor (Justin Long), Zack experiences a eureka moment: he and Miri can solve their economic travails by making their own porn movie, featuring each other as disinterested sexual partners.
In short order, Zack and Miri pull together as motley a crew as has ever disgraced a Kevin Smith comedy, headed by Zack's coffee-shop co-worker (Robinson) as producer, hockey teammate (Anderson) as cameraman and a dexterous actor who pops bubbles from her vagina (Lords). Their project: 'an erotic reimagining' of Star Wars called Star Whores, with Miri in the role of Princess Lay-her.
Meryl Streep, Martin Scorsese and Akira Kurosawa are among other icons in the cinema firmament whose names are uttered in vain as Zack and Miri stumble their way toward their porn debut - when they discover what the audience suspected all along. They are perfect lovemates for one another.
The romantic inevitability of beleaguered twosome pushes the film closer to the machinations of Chasing Amy than any of Smith's earlier works. But where that film made provocatively self-reflective hay out of its protagonist's sexual journey, Zack and Miri is content to go for more in-your-face humour (which literally describes the film's most outrageous stunt).
The effectiveness of Smith's baldest jests cannot cover up the odor of dejà vu that hovers over much of the porn-set parody: fonder memories of The Full Monty, and Boogie Nights come to mind.
One imagines, however, that the movie memory of the folks who will catapult Smith's newest to instant-hit status doesn't extend as far back as any of the above-mentioned films. It would not besmirch the New Jersey-born auteur to claim that Zack and Miri Make A Porno, much like its wayward lead characters, gets the job done.
Production company
View Askew Production
Executive producers
Harvey Weinstein, Bob Weinstein, Carla Gardini
Cinematographer
Dave Klein
Main cast
Seth Rogen
Elizabeth Banks
Craig Robinson
Jason Mewes
Traci Lords