Round Trip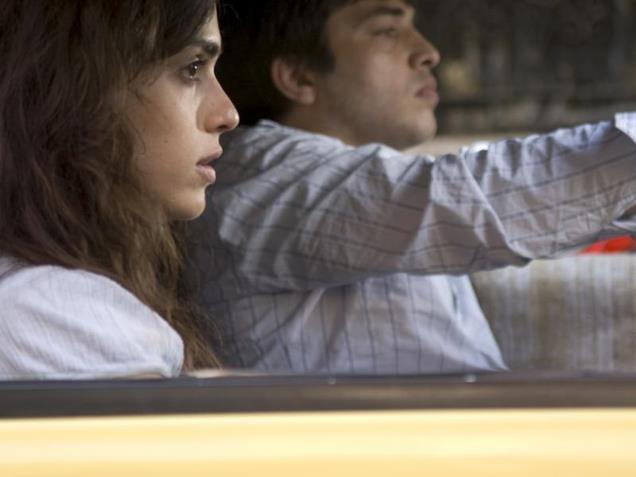 Dir: Meyar Al Roumi. Syria-UAE-France-Germany-Egypt. 2012. 73mins
A beautifully shot and engagingly acted romance, Round Trip follows the relationship between Damascus taxi driver Walid (Ammar Haj Ahmad) and his love Souhaire (Alexandra Kahwagi) as they forsake stolen moments in his car for a train journey to the Syrian capital of Tehran.
Round Trip is an engagingly assembled tale of forbidden love.
The impressive Alexandra Kahwagi received a special mention at the Dubai International Film Festival for her performance as the feisty and determined Souhaire Al-Gazi, a young woman desperate to be with her love, but caught within the constraints of society.
The young couple snatch moments together in his taxicab, but when she is due visit family in Tehran he embraces the moment and buys train tickets. As the sun sets over the striking countryside they flirt and find excuses to visit each others compartment (they couldn't book one to share as they aren't married) before finally sharing tenderly passionate moments.
Writer/director Meyar Al Roumi makes great use of the shuddering train as a great location, with the scenery – glimpsed through the train windows – a powerful and entrancing backdrop. They are aided in their secret liaisons by the train's guard, who helps them at frontier points.
Round Trip is an engagingly assembled tale of forbidden love, with Alexandra Kahwagi especially good as a young woman desperate to be with the one she loves. Their moments of intimacy together are subtly shot, and while never explicit the film makes it clear that this couple have slept together. Gentle, tender and at times quite lovely, it is a fine feature debut from Meyar Al Roumi.
Production companies: Bizibi, Belle Epoque Films, Collage
Sales contact: Bizibi, bizbi@free.fr
Producer: Jerome Bleitrach
Co-producers: Nicole Ringhut, Ihab Ayoub
Screenplay: Meyar Al Roumi, Erwan Le Duc
Cinematography: Lionel Perrin
Editors: Sacha Basset-Chercot, Xavier Sirven
Music: Zeid Hamdam
Main cast: Alexandra Kahwagi, Ammar Haj Ahmad