Dir: Pauline Chan. Australia-China. 2011. 97mins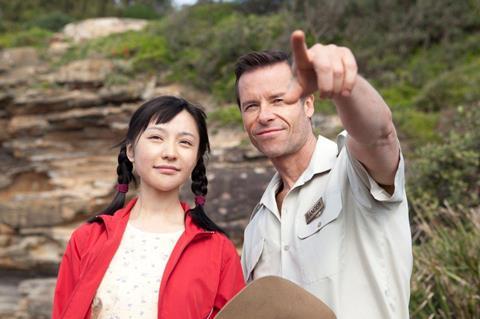 With an excellent cast led by Guy Pearce and assured direction from Pauline Chan, this warm-hearted bilingual Australia-China co-production had its world premiere at the Sydney Film Festival days before a June 18 showing in the Panorama section of the Shanghai Festival. A morality fable stressing national similarities rather than differences, the movie steers well clear of human rights politics, perhaps the price paid for its generous budget and some picturesque location work in rural China.
But the movie's greatest asset is its cast, lead by Pearce in a fine, unglamorous study of inarticulate decency under provocation.
The first such co-production, The Dragon Pearl, premiered earlier this year at the Adelaide Festival, was a children's adventure movie. With its determined 16 year-old heroine, this one steps gingerly into teen/youth territory, though considerable violence in some of the prison sequences will certainly restrict marketing to teens. Adults may find this feel-good tale a touch too ingenuous. A huge September release in China will be followed by Australia/NZ later in the year.
The postcards of the title — though the number 33 is never mentioned — have been sent over ten years to Chinese orphan Mai Mai (Zhu Lin) from her Sydney 'sponsor' Dean Randall (Guy Pearce). The girl has accepted Randall's descriptions of his family and his idyllic life of beach and bushland. Now 16, she gets the chance to visit Sydney as part of the orphanage choir. Mai Mai escapes the watchful eye of her firm-but-sympathetic minder Miss Chen (Elaine Jin) and goes in search of her idealised father-figure, who turns out to be a sadly damaged resident of a bleak 'correctional facility'.
While Randall manages a fearful existence with some dangerously brutal fellow prisoners, Mai Mai falls in with his untrustworthy brother Gary (Rhys Muldoon) who works with a car-stealing-and-rebirthing crew at a rundown Sydney garage. There she meets Carl (Lincoln Lewis), a Shane Warne lookalike who introduces her to motorbike riding and other Western teen temptations.
The movie's downmarket Sydney, well caught by cinematographer Toby Oliver, is nicely darker and scarier than the usual sunny location work, though the Opera House of course figures prominently in a too-neat conclusion. Editing by Jane Moran is crisp: the story rattles along. Antony Partos supplies a wide range of cross-cultural music.
But the movie's greatest asset is its cast, lead by Pearce in a fine, unglamorous study of inarticulate decency under provocation. Young Zhu Lin keeps cuteness at bay most of the time. Her warmth and simple doggedness is a major plus, and she handles her English dialogue with an aplomb that belies the fact that she began the shoot understanding less than a dozen English words. Claudia Karvan is striking as Randall's lawyer, and Matt Nable makes a huge impression as the fiercest (and largest) of Randall's prison 'mates'.
1970s Aussie group The Masters Apprentices sing "Do what you wanna do, be what you wanna be" on the soundtrack as Mai Mai decides where her future truly lies. Given the co-producers, her choice is not unexpected.
Production companies: Portal Pictures, Zhejiang Hengdian Film Productions
Aust/NZ sales: Titan View
International sales: Arclight Films, www.arclightfilms.com
Producers: Zhijiang Liu, Penny Carl-Nelson, Pauline Chan, Lesley Stevens
Executive producers: Yongan Xu, Lee Soon Kie, John Sim, Eddy Chan
Screenplay: Martin Edmond, Pauline Chan, Philip Dalkin
Cinematography: Toby Oliver
Editor: Jane Moran
Production designer: Thomas Chong
Music: Antony Partos
Website: www.33postcardsthemovie.com
Main cast: Guy Pearce, Zhu Lin, Claudia Karvan, Elaine Jin, Rhys Muldoon, Lincoln Lewis, Terry Serio, Matt Nable