Dir/scr Ounie Lecomte. France-S. Korea. 2009. 92 mins.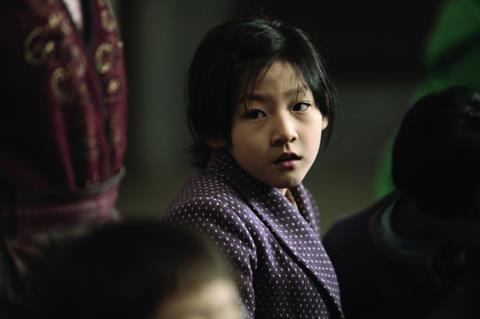 A heart-tugger rather than a full-on tearjerker, A Brand New Life is a sure-footed story of a childhood abandoned, and a striking debut by Korean-born French director Ounie Lecomte. Loosely autobiographical, Lecomte's film is produced by director – and Cannes competition juror – Lee Chang-dong, and while it lacks the harder edge of Lee's own films, Lecomte's restrained and intimate drama is an assured and highly appealing debut that seems highly likely to achieve international art-house sales.
The lead child performances are excellent, Park Doyeon making a very energetic impression
Festivals in general will embrace A Brand New Life, but it could also play especially well in events angled to younger audiences, who are likely to connect with the winning lead performance by pre-teen discovery Kim Saeron.
Set in South Korea in 1975, the film begins with nine-year-old Jin-hee (Kim Saeron) spending time with her father and clearly loving every moment of it. The scene soon shifts to an austere stretch of countryside near Seoul, and it's only then that it dawns on Jinhee that she and Dad are about to part company. For reasons never made clear – not least because Jinhee herself never learns them – her father is leaving her in a Catholic orphanage, while he heads back, we later discover, to his new family.
Stunned by her unceremonious abandonment, Jin-hee finds it hard to adjust to her new life, refusing to let go of the belief that Dad will soon come and fetch her. Gradually she settles in, largely as a result of being befriended by another girl, the older Sook-hee (Park Doyeon). Eventually, both are candidates for adoption by one of the Western couples that visit the home; the orphans' departures for new lives are periodically and poignantly signalled by group farewell choruses of Auld Lang Syne.
The film is very much focused on Jin-hee's immediate experience and perceptions of the new world around her, without bringing any extra narratives to bear, except for a slim subplot about the home's oldest inmate, lame 17-year-old Yeshin (Ko) and her unrequited love for a local boy.
Cynical viewers might say that the film offers an implausibly benign picture of Jinhee's new world. The orphanage is run by sympathetic nuns and an approachable director (Oh), with only a business-like nurse (Park Myung-shin) showing a rougher edge. She gives Jinhee a slap for misbehaving, but otherwise the girl suffers no mistreatment – apart from the obvious one of being wrenched away from her home life. Equally, Jinhee suffers no tensions with any of her co-internees, of whom only Yeshin and Sook-hee are given delineated characters, and none of whom none seem in any way troubled or embittered by their own situation.
Economic camerawork establishes a keynote of ascetic realism. In a low-key, somewhat impressionistic narrative, Lecomte's most significant failing is that she overplays her symbolic hand in a number of touches. One, likely to induce winces, is a priest reading a sermon about Jesus's complaint, "Oh Father, why hast thou forsaken me?" Another is an over-extended thread about Jin-hee and Sook-hee's attempts to rescue a fallen fledgling bird.
The lead child performances are excellent, Park Doyeon making a very energetic impression, especially in the scene where Sook-hee tries desperately to please prospective Western parents in her 'audition' for them. And young Kim Saeron, the centre of attention throughout, proves a natural, managing to switch with versatile effect through Jinhee's moods, from shy incomprehension through rage to ordinary childish petulance.
Production companies
Gloria Films
Now Films
International sales
Finecut
(82) 2 569 8777
Producers
Lee Chang-dong
Laurent Lavole
Lee Joon-dong
Cinematography
Kim Hyun-seok
Editor
Kim Hyung-joo
Production design
Baek Kyeongin
Music
Jim Sert
Maincast
Kim Saeron
Park Doyeon
Ko A-Sung
Park Myung-shin
Oh Man-suk