Dir/scr: Kim Ki-duk. South Korea. 2011. 72 mins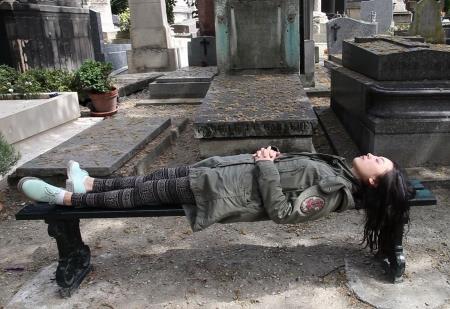 Apparently inspired by a trip he took around Europe during his youth, Amen often comes across like something Kim Ki-duk threw together during his school holidays. As per Arirang, Kim's self-reflective documentary that won the Un Certain Regard award at Cannes this year, Amen marks a dramatically pared-back change of direction for the director of Spring, Summer, Autumn, Winter…And Spring. There are only two credits here, Kim and his actress Kim Ye-na.
Distinguishing the film is talented young Korean actress Kim Ye-na.
Hopefully this will turn out to be a small detour in Kim's ongoing cinematic journey. Amen is a highly conceptual shot-on-the-fly piece about an un-named alienated Korean girl who shuttles around Europe looking for an absent artist boyfriend whose name she shouts at various destinations ("Lee Myong-soo!"), marking the only real dialogue in this 72-minute film. She is raped on a train from Paris to Venice one night by a man in a gas mask who steals her bag and shoes and begins to pursue her.
Kim Ki-duk has helpfully stated that the gas-masked rapist (which he himself plays) doesn't actually exist and is a manifestation of the girl's fears, just in case anyone might be tempted to take Amen on face value.
While this makes sequences where she takes a pregnancy test or discovers baby shoes that he has left for her something of a puzzle, Amen is first and foremost a conceptual piece of work and viewers will either hop on or off Kim's train - small matters of logic or continuity won't matter to those who want to take the trip.
These will probably be few enough, as Kim illustrates his un-named protagonist's alienation through the familiar cinematic shortcuts of jerky hand-held camera and agressive ambient sound, and Finecut can probably expect festival exposure for this determinedly low-budget affair, with France a potential small-scale theatrical sell. Tech credits are lower-drawer.
Distinguishing the film is talented young Korean actress Kim Ye-na whose watchable, irregular, face draws you into Kim's obsessions. Her eyes carry a delicate weight throughout repetitive, circling sequences on trains, park benches, and even as she eats a bag of five bananas.
Production company: Kim Ki-duk Film
International sales: Finecut Films, www.finecutfilms.com
Producer/cinematography/editor: Kim Ki-duk
Cast: Kim Ye-na, Kim Ki-duk