Dir: Ken Kwapis. US. 2012. 107mins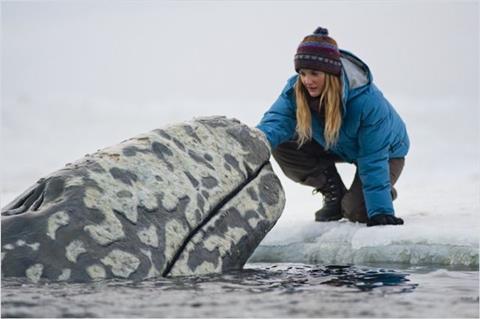 Three stranded gray whales get help from a motley collection of human beings in Big Miracle, a real life-based drama that's pleasantly warm but overly busy and short on emotional oomph. Though wildlife-themed tales often draw significant family crowds to the box office this one may have to wait for its home entertainment release to really find an audience.
The abundance of characters might have been a plus if the film had taken a more satirical approach.
US cinemagoers, who get the Universal-distributed film on February 3, will probably be most interested, especially since some will remember watching the real story unfold on TV. The Working Title/Anonymous Content production will probably be a trickier sell during its international roll out.
The real story took place in 1988 in remote northern Alaska, where a family of whales that should have begun their migration south got trapped by rapidly spreading ice that left them only a small pool through which to surface for air.
'Inspired' by the real events, the screenplay has small-town TV news reporter Adam (John Krasinksi, from the US version of The Office) starting a frenzy of interest in the whales' plight. Among the characters that show up on the ice are Greenpeace activist - and Adam's ex-girlfriend - Rachel (Drew Barrymore), ambitious Los Angeles reporter Jill (Forgetting Sarah Marshall's Kristen Bell), a publicity-conscious oilman (Ted Danson) and journalists from around the world.
While keeping track of the whales' struggle for survival, director Ken Kwapis (He's Just Not That Into You) also makes time to follow the Adam-Rachel-Jill love triangle, the efforts of an army major (J Edgar's Dermot Mulroney) to bring help and even the attempts of the Reagan White House to spin the story for political gain.
The abundance of characters might have been a plus if the film had taken a more satirical approach (as did the book on which the script was based, Tom Rose's Freeing the Whales: How the Media Created the World's Greatest Non-Event). But in a dramatic context the peripheral action - together with the sometimes too broad acting - takes away from the tension and emotional momentum, making the film feel like a soft comedy as much as a rousing adventure (though it does briefly rouse in its closing moments).
The whales are animatronic models that are impressive during a few underwater sequences but are mostly seen just poking their noses above water.
Production companies: Universal Pictures, Working Title, Anonymous Content
Worldwide distribution: Universal Pictures
Producers: Steve Golin, Michael Sugar, Tim Bevan, Eric Fellner
Executive producers: Liza Chasin, Debra Hayward, Stuart Besser, Paul Green
Screenplay: Jack Amiel & Michael Begler, based on the book Freeing The Whales by Thomas Rose
Cinematography: John Bailey
Production designer: Nelson Coates
Editor: Cara Silverman
Costume designer: Shay Cunliffe
Music: Cliff Eidelman
Website: www.everybodyloveswhales.com
Main cast: Drew Barrymore, John Krasinksi, Kristen Bell, Dermot Mulroney, Tim Blake Nelson, Vinessa Shaw, Ted Danson