Dir: Jean-Jacques Annaud. France-Italy. 2011. 129mins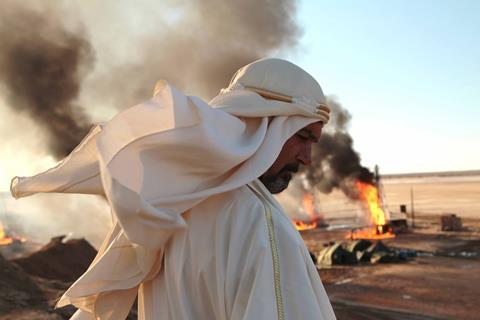 On the surface, Black Gold has everything you'd want a big-budget Arab-themed epic aimed squarely at the international marketplace to contain: ambition, scale, compelling source material packed with historical significance (Hans Reusch's novel The Great Thirst)l a potent line-up of fine actors and an intriguing story laced with themes of family, loyalty, love, pride and the eternal battle between traditional ways and modernisation that happens to dovetail nicely with the Arab Spring that swept through the region this year.
Annaud delivers some splendid desert action sequences while also striking a nice balance between intimate dramatic moments and panoramic vistas.
But while there is much to recommend in Jean-Jacques Annaud's Arabic saga, not least an engaging, dignified turn from Mark Strong and a majestic score by James Horner, Black Gold is undone by a weak script heavy on awkward exposition, some choppy editing that results in abrupt lurches in the plot and the sense that just a little more grandeur would have gone a long way (inevitable comparisons to Lawrence Of Arabia will do it no favours).
The opening sequence establishes Black Gold's fundamental divide: in the 1930s, rival emirs Nesib (Antonio Banderas) and Amar (Strong), the two most powerful rulers in their patch of Arabia, agree to bring their bitter, warring feud to an end. To guarantee the peace, Amar – loser in the most recent battle – gives over his two young sons to be raised in Nesib's household, essentially as hostages, and the two swear before Allah to leave an untouched no-man's land, the Yellow Belt, between their two sheikdoms.
While Amar adheres fiercely to tribal traditions, the greedy, conniving Nesib rails against Arab backwardness ("To be an Arab is to be a waiter at the banquet of the world," he seethes) and thus is an easy touch when American oilmen discover their favourite substance burbling under the Yellow Belt sands.
Meanwhile, Amar's two sons grow up to be falcon-lover Saleeh (Akin Gazi) and bookish, bespectacled Auda (A Prophet's Tahar Rahim). It's the latter who steps forth as Black Gold's chief protagonist, the film focusing on his evolution from shy wallflower into a crusading, charismatic leader driven back into his father's sphere by Nesib's multiple betrayals. (But not before marrying and falling in love with Nesib's feisty daughter Princess Leyla, played by Freida Pinto.)
As the thoroughly modernising sultan, Banderas is never less than entertaining, even if his husky-voiced performance does chew up too much scenery; Pinto is fetching, if not convincingly Arabic, in a role that requires little of her; Riz Ahmed brings soul and comic relief to his role as Amar's forgotten son; Rahim is strong in the film's quieter moments (the scenes between him and Strong are among Black Gold's best), but less convincing when required to step up to the plate as a dynamic figure capable of uniting various desert tribes behind him.
It's Strong who registers most persuasively. The British actor may look the least Arabic of anyone in the cast but he appears born to wear his character's bright, colourful robes, and brings a commanding nobility and fierce stoicism to Amar.
On the details front – production and costume design – Black Gold is dazzling and impressive, and Annaud delivers some splendid desert action sequences while also striking a nice balance between intimate dramatic moments and panoramic vistas. (Acknowledgement, too, must go to the film's marvellous and abundant camels.) If the script were less stilted and over-explanatory, the storytelling less herky-jerky, Black Gold - which had its world premiere as the opening film of this year's Doho Tribeca Film Festival - could be looking at a rosy future on the international circuit.
As it is, with Horner's sweeping score disguising some of the dramatic inertia and Rahim struggling to convey Auda's magnetism in the $55m-production's latter stages, it's a less satisfying journey than it ought to have been.
Production companies: Quinta Communications, The Doha Film Institute.
International sales: Quinta Communications, www.quintaindustries.com
Producer: Tarak Ben Ammar
Executive producer: Xavier Castano
Screenplay: Jean-Jacques Annaud, Menno Meyjes
Cinematography: Jean-Marie Dreujou
Production designer: Pierre Queffelean
Editor: Herve Schneid
Music: James Horner
Website: www.blackgold-themovie.com
Main cast: Tahar Rahim, Antonio Banderas, Mark Strong, Freida Pinto, Riz Ahmed, Liya Kebede, Corey Johnson, Akin Gazi, Eriq Ebouaney, Jan Uddin