It could be rocky times ahead for Dutch public spending. A figure of 22% is bandied about as the possible hit that Dutch cultural organisations may have to take. As the Netherlands Film Festival in Utrecht begins, the prospect of such savage cuts is inevitably causing alarm.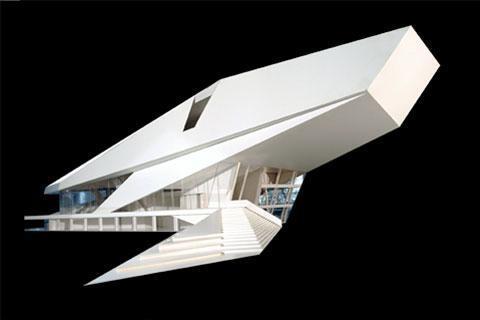 These are paradoxical times in the Dutch film industry. On the one hand, production is booming: 39 features (excluding documentaries) − including eight majority and seven minority co-productions − were made last year. Feature length doc The Forgotten Space won the Horizons special jury prize in Venice this month while Nanouk Leopold's The Brownian Movement was well received in Toronto.
There is hope that Eye, the new institute for film in the Netherlands, will help galvanise Dutch film culture. Local producers have reacted positively to the outward-looking perspective of Doreen Boonekamp, who became head of the Netherlands Film Fund last year.
Eye, which officially came into existence in January, is an umbrella institute that brings the activities of the Filmmuseum, promotional agency Holland Film, The Netherlands Institute for Film Education and the Filmbank all under one roof. Alongside its promotional, archival, cultural and educational activities, Eye also provides a point of "co-ordination" for an industry that has sometimes appeared both fragmented and fractious.
Next year, Eye will move into its new home in a swanky new modernist building in the Overhoeks area of Amsterdam (artist rendering pictured). The organisation's budget, currently around €10 million, is due then to increase to around €12million.
Eye will have a high profile at the Netherlands Film Festival. It is providing prints from its archives for the festival's various programme sections and holding a special screening of the restored version of Pim de la Parra's 1976 classic, Our People. It is organising kids' juries and promoting Dutch films to international visitors during the Holland Film Meeting (the festival's industry section). Also, it is the local distributor for three of the Dutch titles in the Benelux screenings.
However, the mood in Utrecht this week is unlikely to be entirely upbeat. Boonekamp points out that producers are currently "having a very hard time to get their films financed." The production figures for 2011 may not be as buoyant as they are for this year. Unlike near neighbours Belgium, with its tax shelter system, or Luxembourg, with CIAV, Holland doesn't currently have a soft money scheme with which to attract international producers - or to stop its own producers from heading abroad to take advantage of tax shelter opportunities elsewhere.
Following the inconclusive summer elections, the Netherlands is currently without a Government. When one is finally formed, film funding may remain stable. That, though, is not an assumption that the bosses of public film organisations can safely make.
"Everybody gets very restless," Boonekamp says of the ongoing rumours about cuts to the cultural budget. "It would be very good if it (the 22%) cut doesn't happen because it is really too much."
If the Film Fund was to have its budget trimmed, that would have an immediate impact on the number of productions being made in Holland. "As we all know, we are in a time when it is hard to get pre-sales and pre-distribution money. For funding and financing film, it will be a tough time."
The Film Fund's overall budget is currently set at €35.5 million a year until 2012. With the threat of cuts, the Dutch production community is lobbying for a soft money scheme. "It has to be put high on the agenda," Boonekamp says. "We need it desperately." She argues that even without the cuts, the Dutch need some form of fiscal incentive to keep the industry healthy.
Like Boonekamp, Eye Director Sandra Den Hamer is pragmatic about the possibilities of public film cuts. At present, the second building earmarked for Eye is not yet being built because of financing difficulties. Not everyone will be able to fit in the new Museum building. "We have to look at temporary solutions," Den Hamer says when asked how she will house all Eye's staff and functions.
The Film Fund and Eye work very closely together. They're likely to move in together next year. The two organisations collaborated on the recent investigation into the possibilities of digitising Dutch cinemas. Eye's international department (formerly known as Holland Film) plays a key role in promoting Dutch film abroad.
"In the end, we have the same goal - which is (to support) film culture in the Netherlands," Den Hamer says of the two bodies but adds that any merger between the organisations is "not on the agenda."
The challenge for both organisations will be how to remain as effective as possible at a time when both their budgets are likely to be trimmed. Neither wants to be distracted by debates about their own internal workings. As Den Hamer puts it: "It is very important to look at what you can do for filmmakers and what you can do to stimulate film culture instead of looking at organisations and their problems."