Dirs: Fernando Trueba, Javier Mariscal, Tono Errando. Spain-UK. 2010. 93mins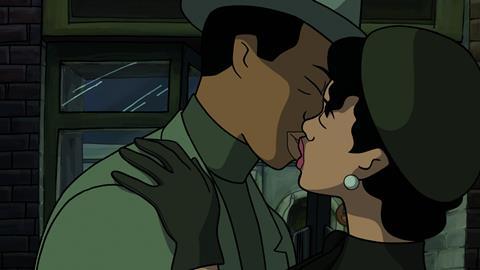 Retro animation and quite wonderful Cuban jazz combine quite perfectly in this charming piece of adult animation. The audience may be somewhat limited to jazz aficionados, but the film has a real atmospheric charm and once you get by the simplistic animation – better in terms of location and sense of period than of characters – there is a great deal to enjoy.
The animation backgrounds are drawn with a lush style and a real sense of place.
The film tracks a passionate and musical romance spanning some 60 years, from the bars and brothels of Havana in the 1940s through to New York, Hollywood and Las Vegas of the 1950s and eventually back to Havana. It is an evocative and enthralling story, driven by a sensual and exciting soundtrack.
Young pianist/songwriter Chico (voiced by Emar Xor Ona) is making his way in the Cuban music world, but when he sees beautiful Rita (Limara Meneses, but sung by Idania Valdes) singing at a small club he is swept away by both her voice and her looks. They pair up to win a radio contest, but he enthusiasm for other women drives Rita away and onto a boat to America.
He follows her, and as they submerge themselves in the jazz scene of New York – characters like Charlie Parker, Dizzy Gillespie and Cuban legend Chano Pozo (who meets a sticky end) play their part – he aims to woo her back.
The animation backgrounds are drawn with a lush style and a real sense of place, and act as an almost painterly backdrop to the more simplistic (almost comic strip) renderings of the characters. But while it can jar at times the style does work, and helps create a sexy and vibrant atmosphere.
The steamy sex-scene between Chico and Rita tends to confirm that is aimed at adults, while a supporting soundtrack CD is likely to be popular. Like The Buena Vista Social Club before it (and in one scene towards the end a Wim Wenders-like figure can be seen making a movie about old Cuban musicians) the film helps draw attention to some wonderful music.
Production companies: Fernando Trueba Prods., Estudio Mariscal, Magic Light Pictures, CinemaNX,, Isle of Man Film Production, Television Espanola, HanWay Films, Televisio de Catalunya, MesFilms, Television de Catalunya, ICAA Ministerio de Cultura, ICIC
International sales: HanWay Films, www.hanwayfilms.com
Producers: Cristina Huete, Santi Errando, Martin Pope, Michael Rose
Executive producers: Steve Christian, Marc Samuelson
Co-producers: Andrew Fingret
Screenplay: Fernando Trueba, Ignacio Martinez de Pison
Editor: Arnau Quiles
Music: Bebo Valdes
Art supervisor: Pedrin E. Mariscal
Main cast: (voices) Emar Xor Ona, Limara Meneses, Idania Valdes