Dir: Florent-Emilio Siri. France-Belgium. 2012. 148mins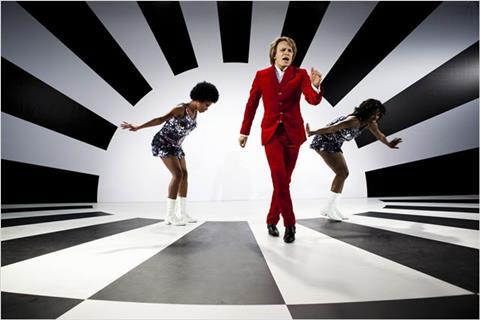 A lavish, impeccably mounted cradle-to-grave biopic, Cloclo provides a wonderful showcase for Jérémie Renier as Claude François, the hard-working and perfectionist musician, singer, dancer and pioneering businessman whose long string of hits in the 1960s and '70s included Comme d'habitude - a little ditty Frank Sinatra subsequently performed in English as My Way.
Florent-Emilio Siri directed music videos in the 1990s and the musical numbers feel right.
François may be little known outside French-speaking countries — even though he played the Royal Albert Hall in January of 1978 and had plans to tackle America at the time of his accidental death just two months later at age 39 — but not having heard of the guy needn't be a major impediment to the film's exportability. He's a fascinating character who happens to have sold 67 million records and director Florent-Emilio Siri (Hostage, Intimate Enemies) has managed to fashion two and a half hours that, for the most part, zip by.
Pop idol François' career trajectory is a superb example of 'If at first you don't succeed, try, try again.' Ambitious, determined and persistent, François badgered his way into showbiz, borrowing from the best and innovating just enough to hit the jackpot, deploying a real flair for showmanship and a talent for switching musical styles to keep up with the times.
He understood the basics of marketing before the French had a word for it, was the first French singer to start a fan club, the first entertainer to impose interracial dancers on French TV and France's first singer-songwriter to found his own record label. He even experimented with hiding the very existence of his second son from the media, thinking the boy would have a happier upbringing out of the limelight.
François was born in Egypt in 1939 to an expansive Italian mother, Chouffa (Monica Scattini, excellent) and a severely authoritarian French father, Aimé (Marc Barbé, downright scary) whose obsessive meticulousness in everything from grooming to just-so decor his son inherited. The constant tug between a mania for order and François' natural exuberance made what we now call anger-management a challenge with the passing years and the demands of his blossoming media empire.
Young Claude - in the company of his older sister, Josette - absorbed the drum rhythms and dances of Egypt where their father, reveling in his status, worked for the foreign company that administered traffic on the Suez Canal.
This idyll came to a violent end when the François family was ignominiously forced out of Egypt in 1956 after Nasser nationalised the Canal. Having lived in splendor complete with servants, Aimé was shell-shocked and resources were scant. Teenaged Claude was eager to help support the family with a job in music, but his impossible-to-please father issued an ultimatum - return to an internship at a bank or never darken his door again.
Claude followed his heart and his intuition and the story of how he went from drumming in a Monte Carlo band to recording his first monster hit in Paris is engaging every step of the way.
As if following a chapter in the Future Screenplay Handbook, Aimé never spoke to Claude again and died before his son became a phenomenon. Unasuaged layers of hurt and withheld approval shaped Cloclo's doubt and insecurity despite his roaring success as a touring entertainer and recording artist, ladies' man and publishing tycoon.
François refused to take no for an answer, whether it was record label executives or the future mother of his children, whom he stalked until she relented.
François got his start at a time when many a French hit was a remake of an American or British smash. (If I A Had Hammer anybody?) This aspect of the soundtrack and musical performances may give Cloclo more traction than the excellent Gainsbourg enjoyed outside France.
François went to an Otis Redding concert to copy freewheeling dance moves. He knew who to borrow from but also had an innate flair for a good beat, a stronger lyric, a livelier presentation.
One might also read him as a narcissistic control freak, secure in his taste and yet haunted by the knowledge that one can lose everything overnight.
The film shows that sustaining fame and popularity is hard work, from the grind of touring - it made headlines when he collapsed onstage - to TV. (François made over 400 television appearances, starting in an era when France had only one TV channel.) His family life suffered.
Production design is spot-on as are the bevies of screaming girls at concerts and lovesick lasses who camp out in his Paris apartment building's lobby or line the streets between his residence and his office. Despite the adulation, François is depicted as prey to fits of jealousy and temper tantrums.
Florent-Emilio Siri directed music videos in the 1990s and the musical numbers feel right. The intelligently used widescreen frame co-habits nicely with squarer format reenactments. François' celebrated repertoire and Alexandre Desplat's score work together seamlessly to propel the saga forward.
Renier, who bears a considerable natural resemblance to François, couldn't be better. (In fact, he's as good as fellow Belgian Cecile de France was in the underseen biopic Soeur Sourire about the so-called "singing nun.")
Sporting a wiry black wig, Benoit Magimel (who is in all of the director's films) is borderline unrecognisable and very good as the singer's longtime impresario Paul Lederman. Dates and locations presented subtly onscreen keep the viewer situated as the narrative unspools.
In an ideal world, Cloco would render Yann Moix's local 2004 hit, the bittersweet comedy Podium marketable abroad - Benoit Poelvoorde was terrific as a Cloclo impersonator whose wife insists he get a real job.
Production companies: LGM Cinema, Fleche Productions, 24C Prod Ed, StudioCanal, TF1 Films Production, Rockworld, JRW Entertainment, Emilio Films, UFilm Belgacom
International sales: StudioCanal International, www.studiocanal.com
Producers: Cyril Colbeau-Justin, Jean-Baptiste Dupont
Executive producers: Sylvain Goldberg, Serge De Poucques
Screenplay: Julien Rappeneau, Florent-Emilio Siri
Cinematography: Giovanni Fiore-Coltellacci
Production designer: Philippe Chiffre
Editor: Olivier Gajan
Music: Alexandre Desplat
Main cast: Jérémie Renier, Benoit Magimel, Monica Scattini, Sabrina Seyvecou, Ana Girardot, Josephine Japy, Maud Jurez, Marc Barbé, Eric Savin