Dir/scr: Thom Fitzgerald. Canada-US. 2011. 93mins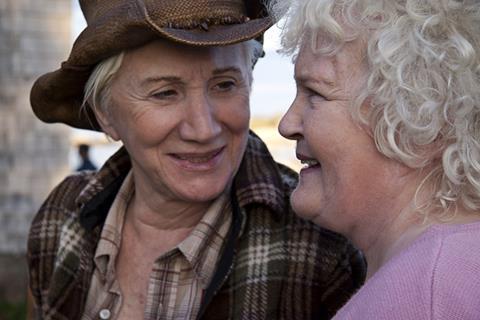 A bright and breezy alternative road trip, Cloudburst features a pair of indomitable lead performances from Olympia Dukakis and Brenda Fricker as a pair of geriatric lesbians who hit the highway, picking up a hunky young hitchhiker along the way.
At heart Cloudburst is a tender love story.
The film manages to blend comedy with drama - and throws in a few refreshingly crude foul-mouthed outbursts – and while the script is a bit unfocussed at times and some of the performances less than on-the-ball, it delivers some feel-good entertainment when it hits the road. Cloudburst opened the Dublin Film Festival, screened at the Glasgow Film Festival and is set to open the London Lesbian & Gay Film Festival in late March. Niche film distributors could well be interested and other festivals with certainly be lining up.
Snarling Stella (Olympia Dukakis sporting jeans and leather hat) has lived with Dot (Brenda Fricker) for 31 years, living in a wooden house on the Maine coastline that had been in Dot's family for years. With Dot increasingly blind and immobile, Stella is finding it hard to cope but her love for Dot makes her determined to keep looking after her.
Dot's granddaughter Molly – who bizarrely has no idea Dot is a lesbian – conspires to have her committed to an institution, but when Stella busts her out they head for the Canadian border, picking up a young male hitchhiker (Ryan Doucette) who they think might help their cover.
At heart Cloudburst is a tender love story, and the pairing of Fricker and Dukakis makes for fine entertainment with the couple's tenderness making the film deeply watchable and genuinely moving. Writer/director Thom Fitzgerald, who developed the film from his play, wrote the Stella role for Dukakis and she certainly has the most fun in terms of her character's pithy language.
Stella happily watches lesbian porn she picked up at a gas station, and when she and Dot are driving she fruitily comments: "If I was on death row, my final meal would be between K D Lang's legs", but despite her bravado she is desperately in love with the increasingly ill Dot.
Ryan Doucette makes a brave stab at the dancer/hitchhiker the pair pick up on the highway – for some reason he is called upon to show off his chest for most of the film – and the way he grows the enjoy the company of the oddball woman is engaging, though the rest of the cast are rather leaden…though perhaps simply put in the shade by the larger-than-life performances from Dukakis and Fricker.
Production company: Emotion Pictures, Sidney Kimmel Entertainment
Sales contact: Emotion Pictures, dpettigrew@emotionpictures.ca
Producers: Thom Fitzgerald, Doug Pettigrew
Executive producers: William Jarblum, Sidney Kimmel, Vicki McCarty, Shandi Mitchell, Trudy Pettigrew, Dana Warren
Cinematography: Tom Hartig
Editor: Angela Baker
Music: Jason Michael MacIssac, Warren Robert
Website: www.cloudburstmovie.com
Main cast: Brenda Fricker, Olympia Dukakis, Ryan Doucette, Kristin Booth, Michael McPhee