Dir: Charles Martin Smith. US. 2011. 112mins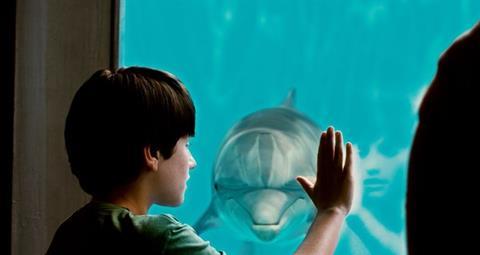 Sentimental and knowingly schmaltzy it may well be, but the good-natured family flick Dolphin Tale ticks all of the right boxes in terms of wholesome entertainment as it tells the colourful and moving – based on real-life – story of the first dolphin whose survival was guaranteed thanks to a man-made prosthetic tail.
Perhaps most effective – and moving – is the closing credits sequence which includes real-life clips of people with injuries and prosthetics meeting Winter.
Not only does it feature an animal in peril (Winter, the dolphin playing itself) and an adolescent empowered by his good actions, but for good measure – perhaps the icing on this cinematic cake – we have the stately presence of Morgan Freeman playing the man who constructs the prosthetic tail. Truly a film format made in heaven, and one likely to perform well at the box office.
Eleven year-old Sawyer (Nathan Gamble), lives close to the Florida coast with his mother (Ashley Judd), is something of a loner despite being mechanical boffin though is close to his cousin (Austin Stowell), who is about to ship off and serve in Afghanistan. One morning walking by the beach he finds a dolphin with its tail caught in a crab trap, and sits with the dolphin while waiting for a rescue team.
Intrigued by the rescue team – which includes young Hazel (Cozi Zuehlsdorff) – he bunks off school then next day to try and see the dolphin at the ramshackle Clearwater Marine Hospital when the animal is being tended by Hazel's father Clay (Harry Connick Jr.). Naming the dolphin 'Winter', Sawyer is mortified to find out that the dolphin's tail has to be amputated, but against the odds Winter slowly recovers and seems to be have bond with Sawyer, which convinces his mother to let him spend more time at the centre.
But Winter's odd swimming style due to the lack of a tail is a short term fix and Sawyer seeks out prosthetics expert Dr Ken McCarthy (a typically solid and endearing Morgan Freeman) from a military VA hospital and convinces him to try and construct a prosthetic tail…all of this set against the backdrop of the marine centre facing financial problems AND a hurricane set to hit the region.
Unsurprisingly, this family film is there to reinforce key values – friendship, education, tolerance etc – but the strong performances and the charming presence of a super-cute injured dolphin help lift it from typical fodder. Nathan Gamble is a fine young performer and plays his role in a subtle and thoughtful manner (as a contrast to the more over-the-top Cozi Zuehlsdorff), and works well with the adult cast.
Morgan Freeman is – as always – the solid anchor for the film and along with Kris Kristofferson (as Clay's rugged but sage-like father) helps the notion of multi-generational family support. It would have been simple for the filmmakers to leverage in a romantic subplot between Harry Connick Jr. and Ashley Judd, but this is smartly avoided.
The 3-D effects are mainly via CGI and add little to the story itself, though perhaps most effective – and moving – is the closing credits sequence which includes real-life clips of people with injuries and prosthetics meeting Winter. The power of hope is what the film is all about, and these clips reinforce this fact.
Production company: Alcon Entertainment
International distribution: Warner Bros
Producers: Andrew A. Kosove, Broderick Johnson, Richard Ingber
Executive producers: Robert Engelman, Steven P. Wegner
Associate producers: Brad Arensman, Carl Rogers
Co-producers: Yolanda T. Cochran, David Yates
Screenplay: Karen Janszen, Noam Dromi.
Cinematography: Karl Walter Lindenlaub
Editor: Harvey Rosenstock
Production designer: Michael Corenblith
Music: Mark Isham
Main cast: Harry Connick, Jr., Ashley Judd, Nathan Gamble, Kris Kristofferson, Cozi Zuehlsdorff, Morgan Freeman. Austin Stowell, Frances Sternhagen, Austin Highsmith, Betsy Landin, Juliana Harkavy, Megan Lozicki, Richard Libertini