Dir/scr: Charles Matthau. US. 2012. 92mins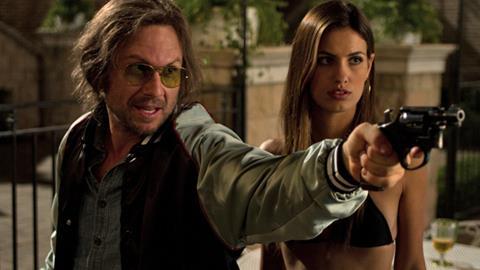 Slick, stylish and scattershot, Charles Matthau's adaptation of Elmore Leonard's Freaky Deaky (apparently his favourite of his books) is enjoyable in places despite never quite finding the right rhythm as it struggles to juggle the multiple storylines.
Breanne Racano is perfect as the husky, sexy and sly Robin.
Though the book was resolutely set in the 1980s, Matthau's adaptation (with Elmore Leonard's blessing) has been shifted into the 1970s, which offers up a whole lot more visual fun in terms of costumes, cars, locations and a nicely garish kitsch look. A strong cast will make it appealing to distributors, though theatrical appeal is likely to be limited.
Freaky Deaky struggles initially to find the right momentum as it quickly introduces a slew of characters, but once it gets going it is a lot more satisfying and moves onwards to a modestly explosive climax.
The film hit a few problems in pre-production when many of the original casting – including Craig Robinson, Matt Dillon, Brendan Fraser and William H. Macy - left the film due to personal reasons, to be replaced by Michael Jai White, Billy Burke, Christian Slater and Crispin Glover.
The story essentially deals with three main sets of characters as they interact, all in the pursuit of easy money. They are cynical ex-bomb squad cop Chris Mankowski (Burke) and beautiful party girl Greta (Sabina Gadecki); super-eccentric long-haired millionaire Woody (Glover) and his loyal-ish driver/confidant Donelle (White), and finally ex-con/femme fatale Robin (Breanne Racano) and her bomb-making boyfriend Skip Gibbs (Slater).
The various story strands swirl around, occasionally interacting before a nicely staged finale brings them all together. Crispin Glover is less than engaging playing self-consciously quirky while Sabina Gadecki looks the part but her character is too bland for her to add much more than sex-appeal to the role.
Breanne Racano is perfect as the husky, sexy and sly Robin, an ex-con turned romance fiction writer with a penchant for sexual exploitation, though best of all are Billy Burke (fresh from the Twilight films) as the craftily cynical cop who falls for Greta, and the sublime Michael Jai White as the scheming, street-wise but charming Donelle, who looks after the drunken millionaire Woody but has his sights set on his money.
A suitably funky 1970s–style score and slices of smart dialogue help paper over the film's more uneven moments, though while the film hints at overt sexiness it is actually quite modest in tone and content.
Production companies: Matthau Media, Eyde Studios, Final Cut Productions
International sales: Paradigm
Producer: Charles Matthau
Executive producers: George Eyde, Louis Eyde, Nathaniel Eyde, Robert Cantrell, Steven M. Berez, Donald Zuckerman, Lee Greenberg
Cinematography: John J. Connor
Editor: William Steinkamp
Production designer: Tom Southwell
Music: Joseph LoDuca
Main cast: Crispin Glover, Billy Burke, Michael Jai White, Christian Slater, Sabina Gadecki, Breanne Racano, Andy Dick, Roger Bart, Bill Duke