Dir: Jay Gammill. US. 2012. 80mins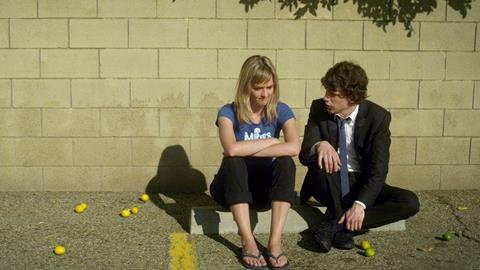 Intermittently engaging but at heart a short film that has been stretched and padded out to so-so effect, Free Samples has moments of interest (mainly in the form of cameos from Tippi Hedren and Jesse Eisenberg) but frustratingly is the sort of US indie that offers little of real interest.
The film comes to life when veteran actress Tippi Hedren arrives for her cameo.
Lead actress Jess Weixler (from Teeth and Alexander The Last) never really finds the right tone for her character Jillian, a surly and sarcastic young woman who is roped into helping run Mike's Dream ice cream truck handing out free ice cream samples while her friend heads off on a mission of mercy. It is a film likely to find much in the way of sales, with VOD its only likely outlet.
Jesse Eisenberg crops up in the opening scene (amusingly wearing a Stetson and answering to the name of Tex) as Jillian and her friends get drunk in a bar. He appears again an hour to give the film a much-needed boost, though quite why his character is so entranced by Jillian is never clear.
While grumpily handing out ice cream – either vanilla or chocolate only – in a remote suburban Los Angeles lot, on paper Jillian is supposed to interact with a series of oddball characters. Sadly Jim Beggarly's script offers nothing vaguely amusing, and these moments are merely a series of outlets for Jillian's unexplained sarcasm.
The film comes to life when veteran actress Tippi Hedren arrives for her cameo. She plays a elderly actress who uses sticks to walk to the van, and Jillian in a moment of compassion takes to the old woman as she recounts stories about her time as a Hollywood actress. Hedren seems to have more energy and charm than much of the cast put together.
A final moment of drama sees Jillian unexpectedly confront the boyfriend Danny (Keir O'Donnell) - well, they are on a break – she has been trying to contact all day, before the film drifts to a flat ending.
Production companies: Film Harvest, New Forum Films
International sales: Preferred Content, www.preferredcontent.net
Producers: Joseph McKelheer, Eben Kostbar
Executive producers: Michael Potts, Nick Mystrom, Kevin Iwashina Co-executive producers, Mark Gould, Eric Kramer, John Madden, Tony Mayer, Bill Rothacker, Martin Schmitz, Robert Unger, Michael Van Gilder, Richard Wham
Co-producers, Cory Knauf, Jay Gammill, Jim Beggarly
Screenplay: Jim Beggarly
Cinematography: Reed Morano
Editors: Franklin Peterson, Jay Gammill
Production Designer: Jeffery Givens
Music: Eric Elbogen
Main cast: Jess Weixler, Halley Feiffer, Jesse Eisenberg, Jason Ritter, Tippi Hedren, Wendy Shapero, Keir O'Donnell, Whitney Able, Jocelin Donahue