Dir: Dennis Dugan. US. 2011. 90mins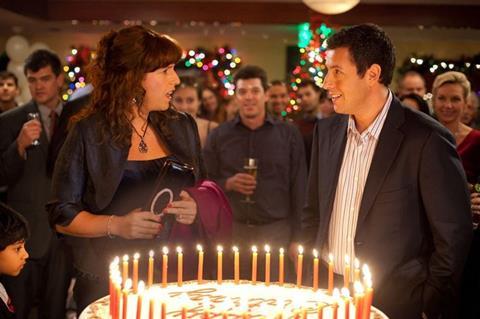 It won't make many new converts, but Adam Sandler fans will be plenty happy with Jack And Jill, a broad and endearingly loopy family comedy in which Sandler stars alongside himself (in drag) and, even more bizarrely, Al Pacino playing himself.
Pacino gives a wonderfully game performance that even seems to boost Sandler's energy level.
Worldwide distributor Sony should be able to count on yet another solid domestic hit from Sandler when it opens the film this weekend (Nov 11) in North America. And with Pacino and Mexican star Eugenio Derbez also in the cast this outing should at least continue the steady improvement in Sandler's international track record.
Working once again with his Just Go With It and Grown Ups director Dennis Dugan, Sandler is back in lovable young dad mode as Jack, a Los Angeles commercials director with a nice home, a loving wife (an underused Katie Holmes) and two sweet kids (one an eccentric Indian adoptee).
When his annoying but good-hearted twin sister Jill (Sandler in fairly believable female form) turns up from the Bronx for Thanksgiving, Jack at first tries to keep the visit short. But when Jill unexpectedly attracts the attentions of one Al Pacino, Jack, who's trying to land the legendary star for a donut shop commercial, decides to let sis stay for the rest of the holiday season.
As long as the comedy comes mainly from Sandler playing off an exaggerated female version of himself, Jack and Jill is predictably broad and scattershot, with pratfalls and bodily function jokes aplenty.
Things get stranger and more enjoyable when Pacino enters the action, playing a version of himself who is determined to win over the reluctant Jill, who he believes can reconnect him to his New York roots. Showing off the crazy side that only occasionally reveals itself in his dramatic roles - and mocking himself at the same time - Pacino gives a wonderfully game performance that even seems to boost Sandler's energy level.
Production companies: Columbia Pictures, Happy Madison, Broken Road
North American distributor: Columbia Pictures
International distributor: Sony Pictures Releasing International
Producers: Adam Sandler, Jack Giarraputo, Todd Garner
Executive producers: Robert Smigel, Tim Herlihy, Allen Covert, Steve Koren, Barry Bernardi, Bettina Viviano
Screenplay: Steve Koren & Adam Sandler
Cinematography: Dean Cundey
Production designer: Perry Andelin Blake
Editor: Tom Costain
Music: Rupert Gregson-Williams, Waddy Wachtel
Website: www.jackandjill-movie.com
Main cast: Adam Sandler, Katie Holmes, Al Pacino, Eugenio Derbez