Dir: Cary Joji Fukunaga. UK. 2011. 118mins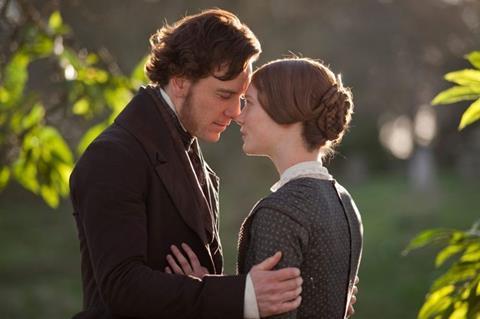 A spare, visually foreboding and well acted adaptation of one the mainstays of high school reading lists, the latest version of Jane Eyre nonetheless struggles to consistently or cathartically dramatically connect, and comes across as a well put together but effectively inessential addition to the considerable canon of works derived from Charlotte Brontë's celebrated novel of 19th century conflicted English romance.
The ample chemistry between the two leads is by far the movie's chief selling point.
Distributor Focus Features has had remarkable success, especially internationally, with similarly pitched period piece costume dramas of class conflict, morality and manners, ringing up over $120 million apiece for Pride & Prejudice and Atonement. A bit less manifested star power may dent the Stateside commercial viability of this telling of Jane Eyre, but the source material's considerable acclaim should make the movie a solid arthouse player with much additional holdover ancillary value, particularly as its leads' respective stars continue to rise.
After a rough childhood that saw her disowned by her aunt and forced to suffer the effects of an authoritarian orphanage, Jane (Mia Wasikowska) arrives at Thornfield Manor as a nanny. There, she is welcomed by the kindly housekeeper, Mrs. Fairfax (Judi Dench), and in short order develops a deep connection with the man of the house, Rochester (Michael Fassbender), though he is stricken with dark moods that hint of a harboured secret.
Jane eventually flees, and is taken in by missionary St. John Rivers (Jamie Bell), who offers her a teaching position and eventually proposes something more. Jane's heart, however, remains with Rochester, entangled in their unresolved past.
Screenwriter Moira Buffini, who previously imposed a more streamlined structure upon an adaptation of the graphic novel Tamara Drewe, here condenses Brontë's episodic narrative by shrinking the first quarter of the novel, and using it roughly as a template of foreshadowing for the difficulties presented by Jane's station in life.
This works in fitful fashion, but there are still many scenes which could have been done away with, since so much of the film hinges and emotionally connects based on Jane and Rochester's complicated and in some respects rather strikingly modern relationship. This focus is much more interesting and fulfilling than any of the movie's other attempts at sociocultural colouring.
In a fairly radical narrative departure from his 2009 debut Sin Nombre, director Cary Joji Fukunaga again exhibits a smart attention for detail and overall construction. The film is undeniably of a piece, and for significant patches there's a haunting simplicity to the proceedings.
Adriano Goldman's cinematography plays up the dank bleakness of the film's rural English setting, offering a visual complement for lead performances in which directly and freely expressed feelings seem like short, regrettably escaped breaths.
Wasikowska, having given a delightfully modern turn in The Kids Are All Right and enjoyed a blockbuster with Alice In Wonderland, here proves roundly capable of conveying deep reservoirs of feeling in pained silences. Fassbender, meanwhile, admirably imbues in Rochester a hardened edge that he does not entirely abandon, making his character more convincingly of his time. The ample chemistry between the two leads is by far the movie's chief selling point.
It remains to be seen, however, whether this slowest of slow-burn romances, and its relative lack of substantive payoff, can still prove compelling to modern audiences.
Production companies: BBC Films, Ruby Films
Domestic distribution: Focus Features
Producers: Alison Owen, Paul Trijbits
Executive producers: Christine Langan, Peter Hampden
Co-producers: Mairi Bett, Faye Ward
Screenplay: Moira Buffini, based on the novel by Charlotte Brontë
Cinematography: Adriano Goldman
Editor: Melanie Ann Oliver
Production designer: Will Hughes-Jones
Music: Dario Marianelli
Website: www.JaneEyreTheMovie.com
Main cast: Mia Wasikowska, Michael Fassbender, Jamie Bell, Sally Hawkins, Judi Dench, Simon McBurney, Valentina Cervi, Holliday Grainger, Tamzin Merchant