Dir/scr: Yeun Sang-ho. South Korea. 2012. 97mins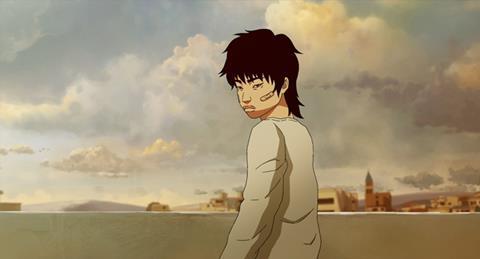 The trauma of childhood bullying haunts the adult lives of its victims in King Of Pigs (Dee gig etui Wang), an ambitious animated feature that ably belies its modest budget. A weighty, clear-eyed narrative confronts the cruelty of children and its consequences, offering an angry critique of a rigidly hierarchical society that is every bit as heartfelt as Andrew Dominic's exploration of American values in Killing Them Softly. The film's impact is dulled by the increasingly overwrought tone of the final scenes and a slightly repetitive feel to confrontations between vulnerable schoolchildren and their wicked classroom oppressors. King Of Pigs should still find a welcome at Festivals and may secure theatrical interest from enterprising niche distributors.
The film impresses by finding visual means of conveying intense emotion.
The first feature from award-winning shorts director Yeung Sang-ho has a visual look reminiscent of Studio Ghibili productions allied to a film-noir style narrative. The opening scenes are shaded in the greys and shadows of film noir as bankrupt businessman Hwang Kyung-min (voiced by Oh Jeong-se) showers after murdering his wife. He then reaches out to Jung Jong-suk (Yang Ik-june), a childhood friend that he has not spoken to for fifteen years. Jung is depressed, jealous of his girlfriend and frustrated by his lack of professional success. Neither one of them discusses their current circumstances when they meet for dinner.
The film becomes a series of flashbacks to their childhood when Hwang was known as Cry Baby and both of them were at the mercy of a rich, smug elite who ruled their school.
The flashbacks reveal a world of absent parents, ineffectual teachers and a Lord of The Flies-type situation where weaker students known as "pigs" are subject to relentless humiliation at the hands of " the dogs". The possibility of salvation lies in Kim Chul (Kim Hye-na), a two-fisted champion of the underdog who believes that the only way to triumph is to become more evil than their tormentors.
The film finds room to explore the validity of Chul's stance, confronting characters with real moral choices and subtly examining our expectations of what a hero should be. Like many a film noir it also ends by revealing the truth about a key incident that has assumed a status similar to the heroic legend at the heart of John Ford's The Man Who Shot Liberty Valance.
The film impresses by finding visual means of conveying intense emotion - hands seem to vibrate in moments of extreme anger or frustration a white light dances in the eyes of fearful children, close-ups reveal expressive faces and the bullies seem to visibly deflate when anyone dares to challenge them. It is the level of thought that has gone into this level of detail that lends King Of Pigs a stronger dramatic impact and greater adult appeal than one has traditionally expected from an animated feature.
Production companies: The King Of Pigs Production Committee, Studio Dadashow
Producer: Cho Young-kag
Sales contact: Indiestory Inc kate@indiestory.com
Production Committee Stanley Kwak, Kim Il-kown, Cho Young-kag, Susan Cahe
Editors: Yeun Sang-ho, Lee Yeun-jeong
Music: Eom Bean
Production designer: Woo Je-keun
Main voice cast: Yang Ik-june, Oh Jeong-se, Kim Hye-na, Kim Kkobbi, Park Hee-von