Dir: Bill Guttentag. US. 2012. 99mins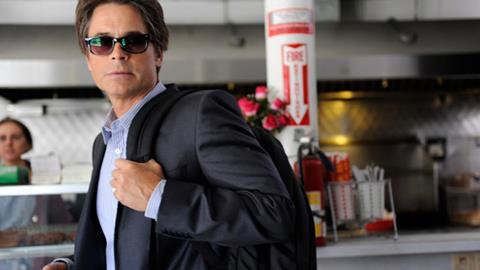 Knife Fight goes into the back rooms where the sex-filled strategies of politics are plotted. This fictional story doesn't equal the drama and the depravity of the real thing.
You feel as if you're watching a spin-off from The West Wing, especially with Richard Schiff as a dirty tricks master with a camera.
The comic intrigue, written and directed by Bill Guttentag, from a story by Guttentag and former Bill Clinton adviser Chris Lehane, will need to race into theaters to maximise exposure in a US election year. Otherwise, it loses its timeliness and its audience. Home entertainment seems a more likely outlet.
The modest-budget inside look at campaign handlers mired in the swamp of American political culture won't travel well beyond the US, although Rob Lowe fans could be its life-support after November.
Knife Fight probes the practices of Paul Turner (Lowe), a professional politician who fixes crises, aided by pretty Kerstin (Jamie Chung). In this election cycle, clients are a philandering Kentucky governor (Eric McCormack), a California senator (David Harbour), who's blackmailed by a blonde masseuse and an idealistic community physician (Carrie-Anne Moss) who takes a stab at running for governor of California. The film's unannounced alignment is with the Democratic Party.
Guttentag's script lurches from tempest to intrigue, mining the cynicism of a tactician who needs to blunt his clients' liabilities – mostly sexual – and amplify those of the opposition. Shot in San Francisco like a television drama (tv will churn out others like it before November), Knife Fight softens the foulness of politics as a merciless contact sport with a flicker or two of nobility. The title repeats Lowe's dictum that, in order to win an election, a candidate needs to bring a gun to a knife fight.
Even with plenty of unsavory ingredients (and less earnest than George Clooney's The Ides Of March), Guttentag struggles to give his story an edge. Political peccadilloes here are too familiar, and his idealistic lesbian physician brims with perfection. You feel as if you're watching a spin-off from The West Wing, especially with Richard Schiff as a dirty tricks master with a camera. Also, Lowe the consultant is more handsome than clients whose images he manicures to win elections – one of a number of details that push disbelief too far when you're trying to sell hardboiled accuracy.
Yet other topical twists could help the film gain traction, either in festivals or theatrically. McCormack's up-from-poverty unctuousness as Kentucky's governor could have been lifted from former North Carolina senator John Edwards (now on trial for criminal conspiracy). So could the accent, the careful coif, an affair with a campaign aide, and a chillingly shrewd political wife (Saffron Burroughs).
When Harbour's senator crosses the line during a massage, it comes so close to a reported event involving Al Gore that we can guess that Gore's Current TV won't be an outlet for Knife Fight.
Knife Fight is at its best when Paul's team crafts television ads, which suggest how Democrats could have weathered nasty Republican smears in recent elections. One deploys soldiers attesting to the bravery of the candidate (Harbour) under attack in Afghanistan, as opponents maligning his war record team up with the scheming masseuse. From the heart, it's the kind of public honesty that might have turned the US presidential election for John Kerry in the close 2004 race.
In a frank crowd-pleasing moment, the same senator admits to going too far with his masseuse, which wins the public over. It's effective here, yet all the more improbable. Real-life lawyer Alan Dershowitz as the masseuse's politician-chasing lawyer is a credible actor. Media analyst Howard Kurtz, who plays a rabid blogger – "I had a blogasm" - should keep his day job.
Guttentag, with documentaries under his belt (Twin Towers, Nanking, Soundtrack For A Revolution) found an unsettling comic edge in his under-appreciated feature Live! (2007), set in the studios of a reality television game show whose contestants compete with loaded guns. In Knife Fight, which ends up with a few too many silver linings, a richer dose of realism would have given his film more laughs.
Production companies: Delucafilms, Divisadero Pictures
International Sales: Myriad Pictures, www.myriadpictures.com
Producers: Guerrino De Luca, Catherine Davila, Daniel Davila
Executive Producers: Rob Lowe, William Green
Co-Producer: Chris Lehane
Screenplay: Bill Guttentag, based on a story by Guttentag and Chris Lehane
Editor: Robert Dalva
Cinematography: Stephen Kazmierski
Production designer: Michael Goldman
Composer: Sister Bliss
Main Cast: Rob Lowe, Jamie Chung, Julie Bowen, Saffron Burrows, David Harbour, Eric McCormack, Carrie-Anne Moss, Richard Schiff, Jennifer Morrison