Dir: Marc Forster. US. 2010. 123mins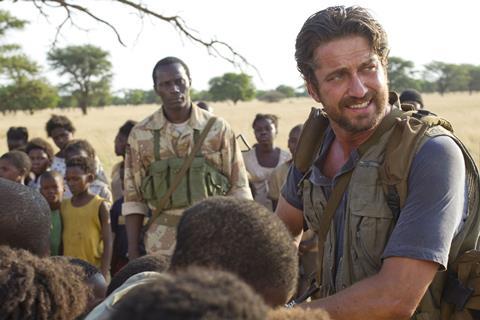 Cynics beware! Marc Forster's latest film is an acutely earnest movie about an evangelical Christian convert on a self-appointed quest to save children in Sudan. Centred around an energetically masculine performance by Gerard Butler, it might look like a powerful true life drama but don't be fooled by the wrapping: it is in fact a naïve Hollywoodised biopic without much nuance or narrative sophistication.
Butler gives it his all as the self-ordained preacher and self-proclaimed child-saviour and he has a certain raw power.
You can imagine this story being made 50 years ago with Charlton Heston in the lead role, battling all that is wrong with the world in the name of God. In fact, the film has a real shot at tapping into the US Christian audience which turned out for The Passion Of The Christ, if Relativity Media has the guts to go all-out Christian in its domestic campaign. International distributors will find it a struggle to position it as either action movie or prestige title and its gung-ho American piety will work against it with media and audiences.
Childers was a biker, drug dealer and violent hood from Pennsylvania. At the start of the movie, he gets out of jail and is reunited with his wife Lynn (Monaghan) who tells him that she has quit her job as a stripper and been born again as a Christian. After one crazy night too many, Childers asks for her help and she and her mother (Baker) take him to the local church where he too becomes a born-again, finally kicking drugs and working hard to win over his daughter (Carroll) and rescue his best friend (Shannon) from drugs and crime.
While he is in Africa lending a hand on a missionary effort in northern Uganda, he is told of the war in Sudan and takes an impromptu visit there. Greatly affected by the savagery and devastation he sees, he pledges to return and build an orphanage. He is true to his word, although he earns the wrath of the Lord's Resistance Army (LRA), which is behind the abduction of tens of thousands of children forced to be soldiers or sex slaves.
Frustrated at the vulnerability of the orphanage, he turns aggressor and sets out as a vigilante to rescue children from the clutches of the LRA. In doing so, he puts his sanity, his family and his life at risk.
Childers is not a particularly nuanced fellow and his inner conflict here is not necessarily riveting – it's basically fight the LRA or leave. His own bullheaded naïveté, illustrated in the scene where he rails against a local Pennsylvania businessman for not giving more to Africa, is shared by the film that takes a simple and subjective approach to the character.
There is little insight into the complexity of Sudan nor representation of the Sudanese (Souleymane Sy Savane is the sole voice of the Sudanese people here), but nor are the American characters back home given much to work with. Fine actors like Monaghan, Shannon and Baker don't have much to do.
Butler gives it his all as the self-ordained preacher and self-proclaimed child-saviour and he has a certain raw power, but Forster and screenwriter Jason Keller don't give him much to work with. The dull linear structure could so easily have been shaken up to illuminate Childers' extraordinary life in a different chronological order and invest his journey with a more considered perspective.
Production companies: Safady Entertainment, Apparatus, GG Filmz, 1984 PDC, Mpower Pictures, ITS Capital, Merlina Entertainment
International sales: Relativity Media, www.relativitymediallc.com
Producers: Robbie Brenner, Craig Chapman, Deborah Giarratana, Marc Forster, Gary Safady
Executive producers: Gerard Butler, Kyle Dean Jackson, Myles Nestel, Louise Rosner, Adi Shankar, Alan Siegel, Spencer Silna, Bradford Simpson, Bill O'Kane
Screenplay: Jason Keller
Cinematography: Roberto Schaefer
Production designer: Philip Messina
Editor: Matt Chesse
Music: Asche & Spencer
Main cast: Gerard Butler, Michelle Monaghan, Michael Shannon, Madeline Carroll, Kathy Baker, Souleymane Sy Savane