Dir: Franck Khalfoun. France-US. 89mins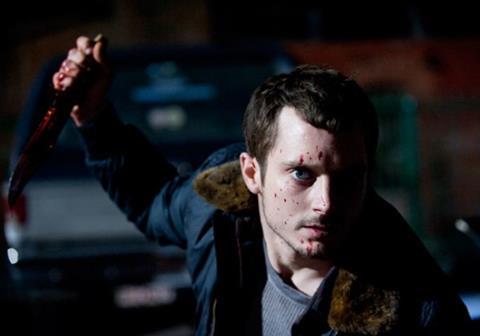 An old-fashioned gory serial-killer film that piles on the bloodshed in amidst some pretty straight-forward plotting, Maniac – an updating of William Lustig's 1980 horror sleaze-fest – is nicely driven by an intense and at times haunting performance from Elijah Wood who seems keen on puncturing his nice-guy screen image.
As a tribute to 1980s killer movies it is well staged and impressively executed.
Well, he does it here. As a loopy killer obsessed with killing and scalping his women victims and fixing their hair onto mannequins he is appropriately jittery and psychotic (the role is a sort of companion-piece to the cannibal killer he played in Sin City), with director Franck Khalfoun largely adopting a 'point-of-view' style that means the audience sees everything from the killer's warped perspective.
The film may be a challenge for censors well aware of the notoriety of the original, and certainly the scalpings are nasty and frequent. It is not an easy film to watch, and while admirable in structure and style it is really one only for gore hounds and Elijah Wood completists, though could develop into a cult late-night favourite if word-of-mouth works for it.
Khalfoun's film is very much a tribute to the original, and he retains a 1980s look as psycho killer Frank Zitto (Wood) stalks the streets of Los Angeles looking for women – well, those with nice hair – to add to his kill list. It opens tensely as he stalks one woman from a club to her apartment building, and that pretty much sets the scene for the film as bodies start to fall as Frank extends his mannequin collection, with more and more flies buzzing around the scalps.
Flashbacks to Frank's troubled childhood with his prostitute mother (America Olivo) point to clues to his psychotic behaviour – the old mother fixation notion – while a tentative romance with photographer Anna (Nora Alexander) sees him trying to control his killing urge. Sadly the scenes of them together never really work as the film heads towards an expected bloody climax.
Co-scripted by Alexandre Aja and Gregory Levasseur, the film offers little new to the canon of serial killer movies, though as a tribute to 1980s killer movies it is well staged and impressively executed. The '80s style synth score is reminiscent of John Carpenter and Maxime Alexandre's widescreen cinematography works well as a contrast to the on-screen intensity.
Production companies: La Petite Reine, Studio 37, Canal Plus, Cine Plus, Blue Underground International sales: Wild Bunch, www.wildbunch.biz
Producers: Thomas Langmann, Alexandre Aja, William Lustig
Executive producers: Daniel Delume, Antoine de Cazotte, Andrew W. Garroni, Pavlina Hatoupis, Alix Taylor
Screenplay: Alexandre Aja, Gregory Levasseur, based on the film Maniac directed by William Lustig
Cinematography: Maxime Alexandre
Production designer: Steffania Cella
Main cast: Elijah Wood, Nora Arnezeder, Megan Duffy, Jan Broberg, Genevieve Alexandra, Sammi Rotibi, Joshua De La Garza, America Olivo