Dir: Anne Fontaine. France-Belgium. 2011. 100mins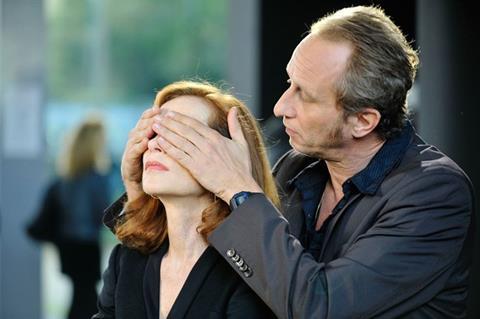 When a lusty and vulgar Belgian workman (Benoit Poelvoorde) barges into the ultra-orderly life of a frosty Parisian museum director (Isabelle Huppert) the gulf between the upper and lower classes gets a spirited workout in My Worst Nightmare (Mon pire cauchemar).
My Worst Nightmare has a shot at a dreamy trajectory.
With its Paris vibe and playful approach to depicting and deflating elitism, co-writer/director Anne Fontaine's 10th feature is tailor-made for the elastic talents of its central couple, providing a meaty comic role for Poelvoorde after serious portrayals in Fontaine's In His Hands and Coco Before Chanel.
Likely to attract the locals when it hits French, Belgian and Swiss screens in early November, this fanciful comedy should travel nicely after its Toronto premiere (September 12). Pre-sales have been made in pockets of Europe, the Balkans, CIS and South America, but US and Canada rights are available. Unless audiences pre-emptively decide they've seen variations on this theme one too many times, My Worst Nightmare has a shot at a dreamy trajectory.
Absolutely secure in her taste but a holy terror to work with, chic Agathe is head curator at the Cartier Foundation, a cutting edge haven for tightly focused temporary exhibits of modern art.
She lives with mild-mannered François (André Dussolier), a successful publisher ten years her senior. They share a huge, exquisitely appointed apartment in the historic heart of Paris and their son attends nearby Henri IV High School, known for its academic rigor and illustrious alumni.
Agathe is bluntly imposing her lofty thoughts on vocational aptitude testing at a parents-and-teachers meeting when boorish Patrick bursts in and rambunctiously hijacks the proceedings, opining: "Screw testing - let's talk about the food you serve here. This five fruits and vegetables a day nonsense has got to go. Kids need hearty, greasy food to grow."
Two navel-orbiting planets have just collided but little do they know they're near the same constellation: their sons are friends.Huppert's boy is preppy handsome but an average-to-poor student. Working class Patrick's son is a naturally brainy budding intellectual.
Oh, yeah - father and son are effectively homeless and if Patrick can't prove to the child welfare authorities that he's providing a stable home, they'll put his boy in foster care.
Patrick, who adores alcohol and zaftig women, seeks housing in Agathe's neighborhood so his talented son can thrive. When François hires Patrick to renovate their bathroom, all the ingredients are in place for a comedy of manners in which one character has none.
Anybody who's ever seen a movie knows that the lusty vulgarian is going to thaw the aloof ice queen, but getting there is expediently creative fun.
When Patrick takes Agathe to IKEA, it's no more incongruous than the Queen of England buying tea bags at Tesco. (At the IKEA cafeteria Agathe eats a lone apple with a knife and fork while Patrick's tray holds a heaping plate of meatballs and three cans of beer.) And when Patrick expresses himself at a chichi museum opening, he's as out of place as hip-hop garb on Barack Obama.
When François' head is turned by Patrick's pretty young caseworker (Virginie Efira), the social deck is ripe for reshuffling.
Huppert, of course, can do control freak narcissism and insensitive bitchery in her sleep and Poelvoorde can personify boorish bonhomie with his eyes closed. But both actors find new riches in stock characters, making them more like real people and less like the caricatures they arguably are.Evocative art direction simultaneously celebrates and makes fun of modern art.
Production companies: Ciné-@, Maison de Cinéma, Pathé Production, F.B. Productions, M6 Films, Entre Chien et Loup, Artèmis Productions
International sales: Pathé, www.patheinternational.com
Producers: François Boespflug, Philippe Carcassonne, Bruno Pesery, Jerome Seydoux
Screenplay: Nicolas Mercier, Anne Fontaine
Cinematography: Jean-Marc Fabre
Production designer: Olivier Radot
Editors: Luc Barnier, Nelly Ollivault
Music: Bruno Coulais
Main cast: Isabelle Huppert, Benoit Poelvoorde, André Dussolier, Virginie Efira, Corentin Devroey, Donatien Suner, Bruno Podakydes, Hiroshi Sugimoto