Dir: Dany Boon. France. 2010. 108 mins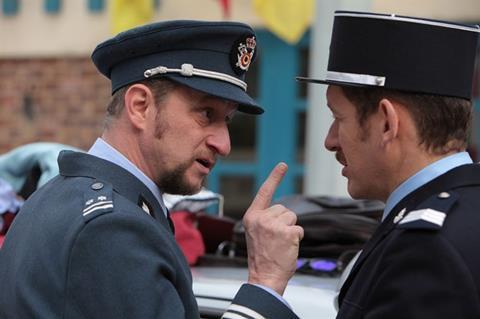 The third feature from writer-director-star Dany Boon is unlikely to match the giddy box-office heights of his breakout hit Bienvenue Chez Les Ch'tis (2008) but it is a likable and highly commercial culture clash 'bromance'.
The film is undemanding but engaging, boasting smartly staged visual comedy.
The mixture of cartoonish physical comedy, slanging matches and star names should ensure potent theatrical returns in all French-speaking and French-loving territories where audiences have been hungry for the next Boon vehicle. It may not travel extensively beyond that market but there is enough remake potential to merit further investigation.
Boon's understated, mild-mannered comic persona is nicely balanced by the broad swagger of Benoit Poelvoorde's pantomime turn in the story of rival customs officers at the Franco-Belgian border in the early 1990s. Ruben (Poelvoorde) is a pig-headed, ultra-patriotic Belgian customs officer with an irrational hatred of the French.
He is distraught at the prospect of border crossings disappearing as the European Union expands. Frenchman Mathias (Boon) is a more reasonable figure although any chance of establishing an entente cordiale is undermined by his clandestine relationship with Ruben's sister Louise (Bernard).
There are few surprises in the plotting of Nothing To Declare (Rien A Declarer). There is an old-fashioned feel to a subplot involving bumbling drug dealers whilst Mathias' efforts to win Louise carry echoes of Meet The Parents. The bantering rarely rises beyond the obvious stereotypes (the insults 'frogs' and 'waffles' are regularly bandied about) but may lose something in translation.
The film is undemanding but engaging, boasting smartly staged visual comedy, charismatic central performances and a strong supporting cast including Karin Viard as a restaurant owner driven to desperate measures by the opening of the border and the collapse of her business.
Production companies: Pathe, Les Productions Du Ch'Timi, TF1 Films, Scope Pictures
International sales: Pathe International, www.patheinternational.com
Producer: Eric Hubert
CInematography: Pierre Aim
Production designer: Alain Veissier
Editors: Luc Barnier, Geraldine Retif
Music: Philippe Rombi
Main cast: Benoit Poelvoorde, Dany Boon, Julie Bernard, Karin Viard, Francois Damiens, Olivier Gourmet.