Dir: Arturo Ripstein. Mexico-Spain. 2011. 127mins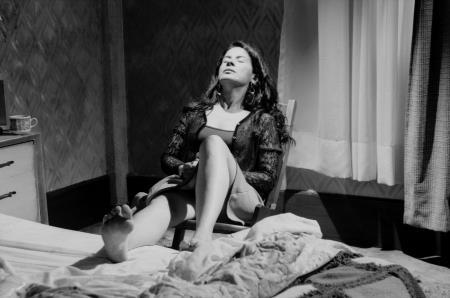 Arturo Ripstein transports Madame Bovary to modern-day Mexico for Reasons Of The Heart (Las Razones del Corazon), not a full adaptation of Flaubert's classic novel but a black-and-white interpretation of its latter half.
As always with Ripstein, the technical achievement of his long-established team is outstanding.
Premiering in San Sebastian, where Ripstein has won the top prize twice (the last was for The Ruination Of Men in 2000), Reasons Of The Heart is a challenging prospect for audiences but still more immediately accessible than his last film, 2006's The Carnival Of Sodom.
While Ripstein's lustrous black-and-white rendering has a seductive luxury, Emma Bovary - or Emilia, as played to the hilt by Aracelia Ramirez - is wearying company, and this will may be confined to the more dedicated end of the art market. Festival exposure would seem likely.
Working with his usual team, including wife and writer Paz Alicia Garciadiego, Ripstein places Emilia in a claustrophobic apartment block in Mexico, where she paces her 84-square-metre flat in over-ripe frustration, often clad in a dirty nightgown. Emilia's problems aren't, as to be expected, rooted in anything notable.
She's bored with her loving drip of a husband Javier (Plutarco Haza), has maxed out her credit card on her indifferent Cuban lover Ramon (Vladimir Cruz), and motherhood doesn't particularly interest her, with 10-year-old daughter Isobel (Paola Arroyo) left neglected in a filthy apartment.
Ripstein cuts into Madame Bovary in the latter part of Emilia's life, where her obsession with Ramon has led him to pull away and her to become increasingly hysterical, licking his bedclothes in one over-the-top scene of sexual longing.
While all this gives rise to an idea that somehow the director will attempt to reconstruct the novel, Reasons Of The Heart is (loosely) played by-the-book - the settings may be modern, but the resolution most certainly is not. Although mentioned early on, Javier doesn't come into play until mid-way through the picture, by which time Emilia's depression, dissatisfaction and essentially spoilt nature are well-established, while a grubby tryst with an upstairs neighbour is played out in a semi-comic manner.
As always with Ripstein, the technical achievement of his long-established team is outstanding, with the apartment block practically glowing through cinematographer Alejandro Cantu's lense. The claustrophobic setting, moving between the apartment interior, the stairwell, and Ramon's tiny bedroom on the roof, may have been necessitated by budgetary concerns, but art director Sandra Cabriada makes the squalor shine. Ripstein has turned Ramon into a jobbing saxophonist, and his melancholy exercises largely score the film.
Production company: Mil Nubes Cine
Producers: Roberto Fiesco, Jose Maria Morales
Executive producer: Hugo Espinosa
International sales: Wanda Vision, wanda@wanda.es
Screenplay: Paz Alicia Garciadiego
Cinematography: Alejandro Cantu
Production designer: Sandra Cabriada
Editor: Alejandro Ripstein
Main cast: Aracelia Ramirez, Vladimir Cruz, Plutarco Haza, Patricia Reyes Spindola