Dir: Miroslav Terzic. Serbia. 2012. 97mins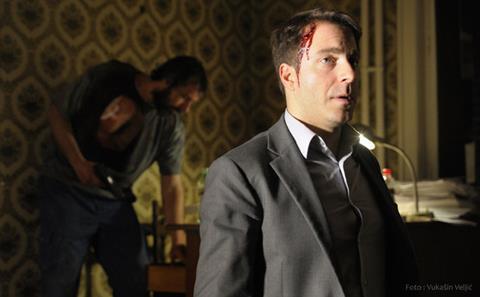 More comfortable with its political agenda than it is with its thriller plot, Miroslav Terzic's first fiction film goes all the way back to the end of the Balkan armed conflict to unearth some more of the painful memories from that period that are still very much alive in this area.
Though shot as an action-packed thriller, the plot reveals its cards far too early in the game and the story proceeds without any suspense to speak of.
The brainchild of Gordan Kicic, a movie and TV star in his own country, who had the original idea, produced the picture and plays the lead, Redemption Street (Ustanicka Ulica), which premiered at the Sarajevo International Film Festival, could appeal to audiences throughout the region, familiar with its cast and background, but international reception is far more difficult to predict.
Kicic plays Dusan Ilic, a junior prosecutor working for the War Crimes Commission, who lands a juicy investigation which might allow him to prove, once and for all, that he is more than just a nerdy young man who got his job thanks to the reputation of his father, now a retired academic.
The case he is handed by his colourful boss (Rade Serbedzija) involves a secret unit, the First Pioneers, which, under the command of a mysterious man known as The Hunchback, has killed, maimed, tortured and racked havoc all over Croatia, Bosnia and Herzegovina. Once the war was coming to a close, to prevent any possible evidence that would incriminate its heads, all the members of that unit, without exception, were eliminated by an order from above.
Ilic is supposed to find the one survivor, if indeed he exists, that might come forward and testify against his former chief, now a well-connected personality in the Serbian establishment. That survivor (Uliks Fehmiu), hiding out under the false name of Micun, works on a construction site and lives in a remote cabin outside town.
Ilic and Micun meet accidentally for the first time when they accompany their pregnant wives for a regular hospital check-up. Later, Ilic follows a man who has been shadowing him, in the process he prevents an attempt to murder Micun, whom he then carries, badly wounded, to the one place he is supposed to keep secret from everybody. If this sounds clumsy, there will be more of these accidents happening later on, before the real culprit, whose identity has been revealed long before, is apprehended
Though shot as an action-packed thriller, the plot reveals its cards far too early in the game and the story proceeds without any suspense to speak of. Occasional colourful snippets of wishful out-of-range bliss inserted between episodes may add a poetical dimension but do not help the plot much. If the atmosphere is taut, nevertheless, it is due mainly to the political subtext, whether it is the horror of the images left behind by the recent past, or the constant suspicion that corruption has gone far enough into the system to involve even its highest officials.
They commission investigations to please public opinion but may very well cancel them ruthlessly once they get their hands on persons that might implicate them and reveal their shadowy past.
Kicic, Serbedzija and Fehmiu have the necessary presence to make their characters stick and Terzic puts them through all the right moves, the one thing they miss is a better structured plot to play with.
Production company: Filmkombajn d.o.o.
International Sales: Fortissimo Films, info@fortissimo.nl
Producer: Gordan KIcic
Executive producer: Snezana Penev
Screenplay: Gordan Kicic, Dorde Miroslavljevic, Nikola Pejakovic
Cinematography: Mladin Colakovic
Editor: Dejan Urosevic
Production designer: Aljosa Spalic
Music: Ivan Brkljacic
Cast: Gordan Kicic, Uliks Fehmiu, Rade Serbedzija, Marko Bakovic, Mira Banjac, Petar Bozovic, Radoje Cupic, Jelena Djpokic, Aleksandar Jurica, Predrag Ejdus