Dir/scr: Dick Maas. Netherlands. 2010. 85mins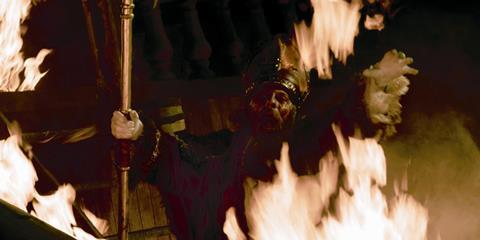 Saint (Sint) is a nicely nasty spin on the Dutch Saint Nicholas legend (the country's variation on the Santa Claus tale), offering up action, chills and more than a few moments of real terror. Writer-director Dick Maas has constructed a smart festive horror movie that has been delighting local audiences in the run up to Christmas.
The action is well staged plus there are some genuinely chilling moments.
In this variation on the festive theme, the good Saint Nick in ancient times happened to be an evil bishop who favours killing children over giving them presents. When pitchfork wielding villagers band against him the bishop swears supernatural revenge.
The story then switches to 1968 when on December 5 – during the obligatory full moon – when a scarred and resurrected Saint Nick attacks a family, with a small boy the only one who escapes….naturally he grows to be a cop and features later. Skip on to 2010 and with snowy Amsterdam getting ready for festive fun, Saint Nick is back for more bloody revenge.
As is common with such films there are some good-looking teen girls to terrorise and a cynical cop (guess who) who is the only one who thinks there is something supernatural going on and starts looking at the rooftops where lurks a chap in a red outfit. But once the cops realise that this bad Santa has murder on the mind they are quick to give chase and respond with machine gun fire.
Dick Maas is expert at producing tense entertainment – Amsterdamned and The Lift have both been local hits – and this film could be a smart genre pick-up for distributors in other territories, especially if looking for a tasty anti-Xmas DVD for Christmas 2011.
The action is well staged – especially Saint Nick galloping across the Amsterdam rooftops while the cops shoot from the streets and canals – plus there are some genuinely chilling moments.
The Dutch Advertising Code Committee received dozens of complaints from parents who thought that the advertising for the film was unsuitable for children (the film is a '16' certificate in the Netherlands, the highest aging band possible), which, of course, is a sure sign that it would be a hit with chill-seeking teens.
Production companies: Parachute Pictures, TDMP
Netherlands distribution: A-Film Distribution
Belgium distribution: Kinepolis Film Distribution
Producers: Tom de Mol, Dick Maas
Cinematography: Guido van Gennep
Production designer: Wilbert Van Dorp
Music: Dick Maas
Website: www.sintdefilm.com
Main cast: Huub Stapel, Egbert Jan Weber, Madelief Blanken, Caro Lenssen, Escha Tanihatu, Bert Luppes