Dir: Lisa Ohlin. Sweden-Germany-Denmark. 2011. 120mins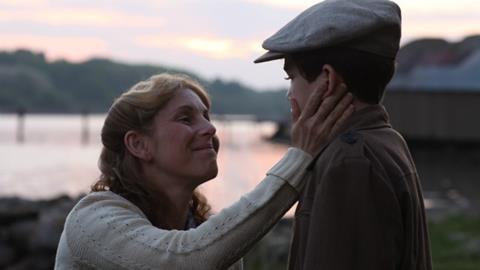 Impressively staged, well performed and rich in melodrama, the period film Simon And The Oaks (Simon Och Ekarne) has the mainstream dramatic qualities to appeal to audiences fond of a little wartime drama. The film has already been a popular success in Sweden, and is the first film in history to receive a total of 13 Guldbagge Awards nominations (the Swedish Oscars), which is testimony to its all round appeal.
A classily made film that has much going for it and is an impressive depiction of a harrowing period.
Based on the popular Swedish novel by Marianne Fredriksson the storyline and structure is traditional – and a little predictable at times – but in the sure hands of director Lisa Ohlin the film delivers enough powerful dramatic moments (especially in its last third) to work for audiences. Plus the core story about treatment of Jews in Sweden during the war years still offers plenty of dramatic licence.
The film opens in 1939 where young Simon lives with his working class parents on the outskirts of Gothenburg close to the sea. Simon has always felt rather different – and dreams of a different life, often sat in the branches of an Oak tree near to the house – and despite their misgivings his parents agree to let him go to an expensive school.
There he meets Isaac, the son of a wealthy Jewish bookseller who is often travelling, and against the odds they become friends, with Isaac often staying with Simon (played as youngsters by Jonathan S. Wächter and Karl Martin Eriksson). When Isaac's father Ruben visits, Simon discovers a shared love of music. But there are secrets to be revealed about Simon's past and when he finds out the truth his life is poised to move in a different direction.
Helen Sjöholm and Stefan Gödicke are impressive and moving as Simon's stoical and well-meaning parents, with Sjöholm especially good as a woman struggling to do the best for her son and her family. As Simon grows into a young man he is played with dignity and passion by Bill Skarsgård, though to a degree his earlier years, when he and Isaac become friends set against the toughest of backdrops, is more interesting.
The locations are impressive and striking – especially the shot of the Oak tree and the sea views – and Annette Fock's music suitably sweeping and emotionally powerful. This suits the more tender and faltering earlier sequences, though the impact lessens as the film heads towards a self-consciously powerful climax as Simon discovers the truth about his past; has a disturbing (to him at least) sexual encounter with a young woman who survived the concentration camps but is left with masochistic desires, and then eventually finds love and affection with a fellow student.
Simon And The Oaks is perhaps a little too straightforward and melodramatic to work in many other territories, but it is a classily made film that has much going for it and is an impressive depiction of a harrowing period.
Production companies: Gotafilm, Asta Film, Schmidz Katze Film Kollektiv, Filmkameratene
International sales: NonStop Sales, www.nonstopsales.com
Producers: Christer Nilson, Leander Carell, Marc-Daniel Dichant, Sveinung Golimo, Per Holst, Patrick Knippel, Steffen Reuter
Screenplay: Marnie Blok, based on the novel by Marianne Fredriksson
Cinematography: Dan Lausten
Editor: Kasper Leick
Production designers: Anders Engelbrecht, Lena Selander
Music: Annette Focks
Main cast Bill Skarsgård, Helen Sjöholm, Stefan Gödicke, Jan Josef Liefers, Jonathan S Wächter, Karl Linnertorp, Katharina Schuttler