Dir: Rupert Sanders. US. 2012. 127mins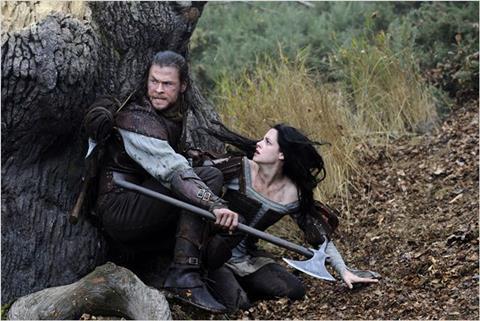 It is back into 'once upon a time' territory with the second live-action Snow White film of the year, and while debut feature director Rupert Sanders comes up with some suitably stylish moments and is blessed with a deliciously evil performance by Charlize Theron as the cruel queen, his film can never quite find the balance between fairy tale and Joan of Arc-style fable and gets bogged down in questing when it should be delivering magic and adventure.
The film succeeds perfectly when it comes to the glistening cinematography from Greig Fraser and Colleen Atwood's impressive costume design.
If Tarsem Singh's recent entry Mirror Mirror was more in the theme of Disney (lush, opulent and good-natured) then Snow White And The Huntsman certainly aims for darker and potentially more dangerous fare, and certainly for a while looks as it will hits its mark. It is frustrating then when it heads off into Lord Of The Rings style (lots of questing atop distant peaks) when it should be focusing on the legend.
The top-line casting of Kristen Stewart as a gloomy but feisty Snow White will mean that Twihard fans may well take note (plus there is Chris Hemsworth and Sam Claflin on the hunk front), and as a bit of female-orientated action the film acts as a nice contrast to The Avengers and Men In Black 3 and is nicely timed for the holiday period. It does, though, run probably 20 minutes too long that may impact picking up on the family marketplace.
This variation on the tale opens as usual with Snow White's Queen mother dying when she is young and her distraught father King Magnus (Noah Huntley) coming across the beautiful Ravenna (Charlize Theron) while fighting a supernatural enemy and promptly taking her as his new queen. Before you can say poison apple she has stabbed him, taken over the realm and packed off her stepdaughter Snow White (Kristen Stewart) to a dank and dripping cell.
When Snow comes of age – and with Ravenna's magic mirror pointing out she may not still be the most beautiful woman in the kingdom – she manages to escape the castle, only to have Ravenna send the boozy but able Huntsman (Chris Hemsworth, with a varying accent that may well aiming at Scottish) into the deadly Dark Forest to track her and bring back her heart.
After a tussle in the Forest and a little pottering around at a waterside village, the Huntsman comes to see there is more to Snow White than a spoiled royal wannabe, though it takes the arrival of eight dwarves (yes, eight) to help the film pick up speed again. Thanks to the magic of movie special effects the dwarves (apparently a cockney clan with wacky haircuts) are played by the likes of Bob Hoskins, Ian McShane, Ray Winstone, Nick Frost, Eddie Marsan and Toby Jones and through sheer force of personality they help give the film some energy as it readies itself for the expected showdown with Ravenna.
When Kristen Stewart slips into her Joan of Arc armour and rallies her troops it is all rather expected and traditional, though at least the battles with supernatural hordes - who shatter into glistening black shardes when struck - are fun. In these scenes Stewart finally displays the pluck and passion we expect from any self-respecting Snow White.
Sadly Charlize Theron drifts in and out of the film, but when she on screen – whether it be bathing in pool of while liquid or stealing the souls of maidens to keep her young – she is mesmerising, and acts as the perfect balance to Kristen Stewart, who favours underplaying her heroine role as she does in the Twilight films.
The Huntsman as played by Chris Hemsworth is all about the big axes and doe-eyed loyalty, and while he is a striking screen presence the role is not really developed enough to justify a name-check in the title. That being said, he fares far better than the underwritten Prince William (Sam Claflin), the childhood playmate of Snow White who's been carrying a torch for her ever since she was locked away, and has grown up to be a master archer but rather plodding would-be lover.
The film succeeds perfectly when it comes to the glistening cinematography from Greig Fraser and Colleen Atwood's impressive costume design, and the special effects are suitably impressive but quite simply it never finds the right pacing to really grip and entertain. For example this is an impressively shot sequence where the Huntsman battles a large troll who had threatened Snow White – nicely done indeed, expect that it offers nothing to the underlying story and simply takes up screen time.
Former advertising man Sanders (who directed an impressive Halo 3 commercial) certainly looks to have the verve and skills to deliver a successful film, but quite simply here despite the film scattered with memorable moments, the story and pacing never really match up to his stylish vision.
Production companies: Roth Films, Universal Pictures
Domestic distribution: Universal Pictures
Producers: Joe Roth, Sam Mercer
Executive producers: Palak Patel, Gloria Borders
Screenplay: Evan Daugherty, John Lee Hancock, Hossein Amini
Cinematography: Greig Fraser
Editors: Conrad Buff, Neil Smith
Production designer: Dominic Watkins
Music: James Newton Howard
Main cast: Kristen Stewart, Charlize Theron, Chris Hemsworth, Sam Claflin, Ian McShane, Bob Hoskins, Ray Winstone, Nick Frost, Toby Jones, Eddie Marsan, Lily Cole