Dir: Adam Pesce. US. 2011. 95mins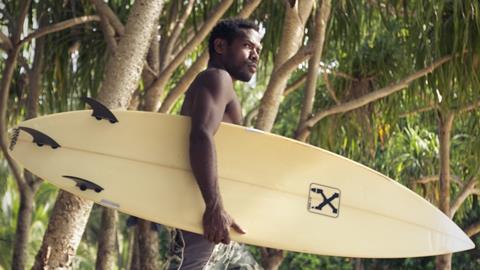 Splinters is a curious hybrid novelty…an ethnographic sports documentary, shot among the surfers of Papua New Guinea, a land that anthropologists usually visit to study tribal carvings, not surfer dudes. Even with rousing surfing sequences in Vanimo, a picturesque village which could pass for paradise (as long as you're not a battered local woman), Adam Pesce's lively and complex debut documentary is likely to be headed for television rather than to any theatrical outlets.
Splinters, a reference to the surfboard, is also a hint that success and exposure can fracture the bonds that hold people together.
Subtitles that translate dialogue in Papua's official language, Tok Pisin, will keep Splinters from reaching the widest US TV audience, yet its unique look into a heretofore unknown surfing culture will tempt broadcasters and cable nets worldwide. Surfers and fans will be an additional market for the eventual DVD.
Surfing reached Papua New Guinea thanks to a pilot who left a board in Vanimo in the 1980s. Later a half-British Papuan saw the sport as part of a plan to market tourism on pristine beaches. Locals also took to it. Director and cameraman Adam Pesce (also a surfer) focuses on the first national competition and its emotional pull on the population.
Pesce finds the proverbial thrill of victory and the agony of defeat, and Papua's own musical surf grooves. Violence is rooted in family life and the allure of Western stardom is an irresistible intoxicant that splinters the village. Outside influences in an insular culture make for trouble in paradise.
The surfing competitions have their characters and stars – attractive, sexy men and women athletes who dress with the cool assurance of a surf/hip hop style, but with at least one foot still standing in the deeply traditional ways of a few decades ago.
Pesce earns the trust of surfers and their families, who speak candidly to him about their lives. The novice also filmed the competitions himself with cameras mounted on the shore. Vivid, exciting – even without CGI - the surf sequences and other production values don't look like the work of a first-timer.
Given the vast differences between Papuan village culture and the West, any film about local practices wades into anthropology. The entry of some of Vanimo's surfers into a globalised sport has broader ripples in the society. You see the generational difference as the camera shifts between the surfers' faces, and those of their parents, who until recently lived in isolation. Even today, few of the surfers speak good English. Few seem able to write in any language.
Splinters, a reference to the surfboard, is also a hint that success and exposure can fracture the bonds that hold people together. Women usually bear the brunt of it. Clans clash when one's surfer wins and another's loses. A star surfer's first wife appears, demanding child support from the champion, who is jailed in an outdoor cage and ousted from competitions when he doesn't pay up.
Distilled from hundreds of hours of footage, Splinters can be unpolished but falters sometimes in juggling its multiple stories. This first feature is still a dramatic observation of a culture barely known to outsiders. It will be a persuasive calling card when Adam Pesce decides to make another movie.
Production company: In Effect Films
International sales: Preferred Content, 1 310 393 0707
Producers: Adam Pesce, Perrin Chiles
Executive Producers: Paul Morgan, Daniel Dávila, Catherine Dávila, Danielle Robinson, Alan Siegel
Co-producers: TJ Barrack, Wes Brown
Associate Producers: Charlene Olson, Bonneau Ansley
Cinematography: Adam Pesce
Editor: Kim Roberts
Music: Jesse Voccia