Dir: Fernando Trueba. Spain. 2012. 104mins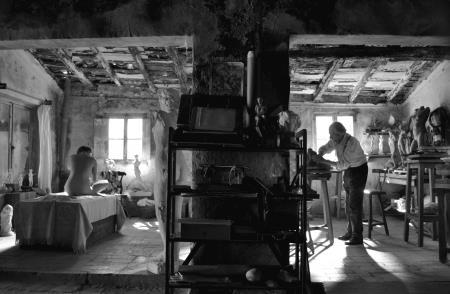 Fernando Trueba delivers an exquisitely crafted reflection on the "big three" - life, death and art - in The Artist And The Model (El Artista y la modelo), co-scripted by the director and Jean-Claude Carriere and starring the ever-compelling Jean Rochefort in one of the title roles (the artist, not the model).
The Artist And The Model is undoubtedly a highly seductive piece. Led by Jean Rochefort in a role that seems to fit him like a glove.
Shot in seductive black-and-white and set in 1943 occupied France, this still deliberation is an always-involving, if perhaps not wholly fulfilling contemplation of some of the themes which have played throughout Trueba's lengthy if uneven body of work, and can look forward to extended play on the festival circuit and select art-house exposure.
For some, the combined allure of Trueba, Rochefort, Claudia Cardinale (as the aged sculptor's wife) and Carriere will be an irresistible draw, and the film is never anything less than a pleasure to watch. Others could find The Artist's final section in particular too much of an old man's film for a modern market.
Shortlisted for Spain's Oscar entry and healthily pre-sold, The Artist And The Model follows on from Trueba's Oscar-nominated Chico And Rita, an animated collaboration with Spanish artist Javier Mariscal. Working closely again with an artist in the form of legendary screenwriter Carriere, he has delivered what feels like a personal piece. It is in part dedicated to Trueba's late brother Maximo, a renowned sculptor, and inspired by the life of French Catalan artist Aristide Maillol, yet it strongly reflects some of Carriere's preoccupations as witnessed in last year's documentary Carriere, 250 Meters.
For a director who has been so obsessed by music (Trueba doubles as a successful record producer in Spain), The Artist And The Model is a preternaturally quiet feature about an old sculptor roused back into creativity by a young beauty (Aida Folch). The director even stills his ambient noise to better contemplate the art on screen as this jaded artist, devoted to the nude, slowly comes back to life. It takes more than 40 minutes for the artist to talk properly to his model, yet the silence is always comfortable.
Set in a small market town close to the Spanish border (it shot in Ceret), the French-language The Artist And The Model casts Rochefort as Marc Cros, a famous 80-year-old sculptor whose wife (Cardinale), herself his former model, sees Merce (Folch), a beautiful young Catalan fugitive from Franco's Spain, sleeping rough in the town. She hopes the young girl can inspire her husband to start afresh, even at his advanced age.
With country girl Merce installed in his rural studio, Marc begins to sketch and eventually the pair develop an understanding, even a love. Trueba's film is very concerned with beauty and purpose and the gorgeous stillness of cinematographer Daniel Vilar's black-and-white images underline his and Carriere's thematic preoccupations. Vilar delivers lustrous studies of the nude in moving 35mm - the old man's hand adjusting the young girl's naked body.
Merce is beauty in a time of great ugliness, a symbol of hope who leads fugitives through the mountains to safety in Spain and becomes involved with a maquis. Marc Cros searches for meaning through his jaded cynicism, meditating on the power of idea, the lack of time to create, and teaching Merce to read Rembrandt's Child Learning To Walk.
Trueba and Carriere don't probe their themes too deeply, scattering thoughts on the wind in this hot summer, and the conclusion thus seems somewhat forced, but The Artist And The Model is undoubtedly a highly seductive piece. Led by Jean Rochefort in a role that seems to fit him like a glove, Trueba's cast revels in this rare opportunity. Folch, discovered by Trueba in The Shanghai Spell, is expressive in a very silent role, and her chemistry with Rochefort is strong.
Almodovar mainstay Chus Lampreaves makes an odd appearance in this French village as the comic Spanish housekeeper. Gotz Otto has a brief turn as an art-loving Nazi.
Production company: Fernando Trueba PC
International sales: 6Sales: www.6sales.es
Executive producers: Cristina Huete
Screenplay: Fernando Trueba, Jean-Claude Carriere
Cinematography: Daniel Vilar
Production designer: Pilar Revuelta
Main cast: Jean Rochefort, Aida Folch, Claudia Cardinale, Gotz Otto, Chus Lampreave