Dir: Marie Loser. US-France. 2010. 70mins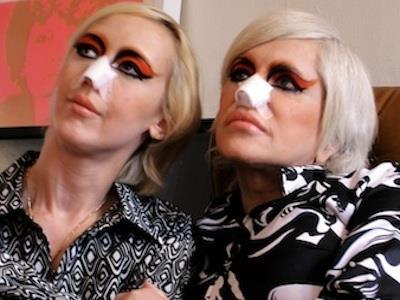 This engagingly oddball documentary will find an appreciative – though undoubtedly quite small – audience as it delves into the life of the loving performance artist twosome Genesis and Lady Jaye and their artistic intention to become one 'pandrogynous being' via plastic surgery. Winner of the Teddy Award for documentary at Berlin, the film also screened at Tribeca.
The film dwells on their music work together as well as their domestic life.
Director Marie Losier's film will be must at LBGT-linked film festivals, though it also has enough quirky charm to cross-over to art-themed events and could also interest broadcasters with a specialist art niche.
Performance artist Genesis Breer P-Orridge (born one Neil Andrew Megson) describes his life story and relationship with his late partner Lady Jaye who died in 2007, via a blend of archival footage and newly shot interviews.
British-born P-Orridge relocated to the US with his then wife and two children, but when he met performance artist Lady Jaye the pair fell in love and set about an art project to use plastic surgery to make themselves look identical.
The film dwells on their music work together as well as their domestic life – which are quite engaging as they set about household chores – though most moving is when P-Orridge describes Lady Jaye's death. In fact their relationship is at the core of the film which, though fascinating, skips over other aspects (aspects which might have offered a more critical view of P-Orridge) of their life and relationship.
Production companies: Foundation, CNAP, Nysca, ETC, IFP Market, Film/Video Studio Program Wexner Center for the Arts, Sarah Jacobson Film Grant, FIAF
International sales: Cats & Docs, www.catndocs.com
Producers: Marie Losier, Steve Holmgren
Cinematography: Marie Losier, Benjamin Kasulke
Editor: Marie Losier
Music: Genesis Breyer P-Orridge, Bryin Dall
With: Genesis Breyer P-Orridge, Lady Jaye Breyer P-Orridge, Edley ODowd, Big Boy (Breyer P-Orridge), David Max, Markus Persson, Alice Genese, Bryin Dall, Tony Conrad, Caleigh Fisher, Gibby Haynes