Dir/scr: Lee Kirk. US. 2012. 94mins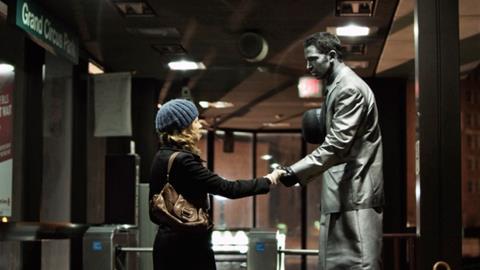 Can a silver-painted street mime on stilts find romance with a thirty-something woman who's been fired from her job? Writer/director Lee Kirk reaches for new twists in romantic comedy with his quirky feature debut about loser love, starring his wife, Jenna Fischer.
Messina, an indie stalwart, has a smirking outsider's charm that you associate with Ben Stiller.
The Giant Mechanical Man moves through the eccentricities of being broke and alone with a warmhearted charm, but lacks a killer instinct in its jokes. Still, Jenna Fischer, who produced, has millions of fans from The Office. Her appeal could lift this romance among misfits into a VOD success with the couch potato audience. The Sundance-clone comedy, however, is unlikely to move beyond English-speaking countries. The film had its world premiere at the Tribeca Film Festival.
In a big indifferent city, Tom (Chris Messina) loses his corporate girlfriend and Janice (Fischer) loses her job and apartment. The two likeable rejects meet at the zoo, where Janice lands work selling 'gorilla drinks' and Tom cleans up you-know-what. An attraction follows, but in Janice's path comes an unctuous longhaired talkaholic self-help author (Topher Grace) whom Janice's rich sister considers perfect for an aimless soul.
In the Frank Capra mold, Tom and Janice are eccentric American Everypersons, lost in their lives but fortunate to run into each other at random in a metropolis of lonely train platforms and chance encounters. It sounds and feels a lot like Nora Ephron.
Kirk, who wrote the script, weaves their personal crises in and out of the 'normal' world of relationships, parties and work, all of which are predictably hollow to each of the lonely souls.
There's a satirical tone here, as Kirk takes his characters in and out of the daily flow of commuters who slave at work and seek personal improvement in their free time. They are easy prey for the compassion-for-profit industry, embodied by Topher Grace as a smarmy motivational guru, coiffed like a New Age charlatan right out of Doonesbury. He will be recognizable to anyone who watches authors hawk self-help books on American daytime television.
The script, not singing with wit, builds on odd situations rather than zinger lines. Man/Statue Tom, who stands silently in public places, observes the crowds observing him and mocks their conformity as he startles them with machine-like movements.
When he and Janice end up at the zoo, it's as if the two have reached the elephant's graveyard of opportunity – the bottom of the heap that the 99% shares with caged creatures. Kirk doesn't miss the chance to depict the zoo as a place where powerless people in everyday life come to taunt the animals.
As Janice, Fischer conveys helplessness and futility, but still holds some pluck inside. She isn't helped by the camera, however, which is inconsistent in the way she is shot and lit. Sometimes her face radiates – at other moments, she can look as if she's in the sound check. And the costume department's choice of hats for her turns this economic casualty into a fashion victim.
Messina, an indie stalwart, has a smirking outsider's charm that you associate with Ben Stiller. He's fun to watch as a robotic presence on stilts who entertains the workaday robots on their way to boring jobs. You only wish he had better lines.
Malin Akerman, as Janice's bossy sister, is appropriately impatient in a comedy that's well cast but keeps you waiting for its clashes of rich/poor, conformity/eccentricity to deliver the laughs.
The Detroit outdoor locations have a sinister anonymity, yet generic interiors attest to what must have been the film's low budget.
Production companies: Stealth Media Group, Votiv Films, Taggart Productions, Andycat
US Distributor: Tribeca Film
International sales: Stealth Media Group, www.stealthmediagroup.com
Producers: Molly Hassell, Jenna Fischer, Michael Nardelli
Executive Producers: Brent Siefel, Michael Cowan, Michael Gallant, Tim Nardelli, Mike Ilitch Jr., Glenn P. Murray
Cinematography: Doug Emmett
Editor: Robert Komatsu
Production designer: Paulette Georges
Music: Rich Ragsdale
Main Cast: Jenna Fischer, Chris Messina, Topher Grace, Malin Akerman, Rich Sommer, Lucy Punch, Bob Odenkirk