Dir: Tom Hooper. US-Australia. 2010. 118mins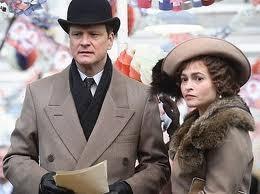 The moving and elegantly staged The King's Speech will be a strong contender with awards season looming, driven by wonderful performances by Colin Firth and Geoffrey Rush who strike up the most unlikely of friendships as a troubled Royal and his Aussie speech-therapist. It has all of the right credentials to strike a chord with audiences fond of well-written period dramas that also happen to reveal some insight into the British royal family.
It is a moving and charming film that is entertaining, touching and informative….
Based on the true story of George VI's battles to overcome a stammer that hampered both his confidence and ability to communicate with the public, it is a delightfully written film – that heads into tearjerker territory quite nicely – that shows that bravery can come in many forms. Set for a November release in the US, and a January outing in home UK territory, The King's Speech (not the most thrilling of titles it must be said) should be set to be a solid performer at the box office.
The film opens with a moment of sheer terrifying embarrassment as Prince Albert (Colin Firth) – then second in line to the throne - attempts to make a speech at the 1925 British Empire Exhibition. Not only is he trying to talk to assembled masses, but also communicate to the British Empire through the new fangled miracle of radio.
Given that the family job is talking to people, Prince Albert, with the support of wife Elizabeth (a charming Helena Bonham Carter) tries various medical options but with no luck, an eventually she seeks out alternate and unorthodox treatment offered by Australian speech therapist Lionel Logue (Geoffrey Rush), Reluctantly Prince Albert – or Bertie as Lionel insists on calling him – submits to the course of treatment (which includes shaking his jowls, singing, jumping up and down and having his wife sit in his stomach) and gradually sees an improvement in his stammer.
Albert's authoritarian father King George V (an impressive cameo by Michael Gambon), along with a tough and at times brutal childhood, lie at the root to Albert's psychological problems behind his stammer, though the situation is not helped by his brother Edward (Guy Pearce, looking very much like the British royal) and his burgeoning romance with married American socialite Wallis Simpson (Eve Best).
With Edward due to inherit the throne, Allbert still feels relatively safe that his public duties will be limited, but after their father's death Edward's decision to marry the newly divorced Wallis means that the British government have to force him to abdicate from the throne. Albert takes to the throne, adopting the title King George VI, but is faced with further – and terrifying to him – public duties. In the old days, as he says, things were easier. "All a King had to do was look respectable in uniform and not fall off your horse".
In 1939 Albert is faced with his greatest challenge…a speech to the nation and to the Empire about the country entering into war with Nazi Germany. With Lionel at his side he manages to deliver a speech that is both passionate and considered, finally convincing both himself and his doubters about his abilities as King and as communicator.
On paper, Geoffrey Rush's 'Henry Higgins'-like role is perhaps the showiest, but he subtly underplays the part of a maverick Aussie man-of-the-people and works extremely well with Colin Firth's more mannered yet troubled royal. After his award-winning role in Tom Ford's A Single Man last year, Firth is busy confirming his reputation as a fine actor beyond the rom-com roles he can handle in his sleep.
Helena Bonham Carter is equally restrained as Albert's loving wife Elizabeth, the gentle power behind the throne, and is especially fine in a delicious scene where the royal couple visit Lionel in his modest home and finally meet Lionel's wife (played by Jennifer Ehle, who is given little to do), who knows nothing about her husband's rather famous client.
David Seidler's clever and amusing script allows a fascinating delve into a real-life story. Firth's Albert is a man physically and psychologically tormented by his affliction and his bravery in both finding a way to deal with the situation and keeping on insisting in Lionel's assistance in the face of distrust from his advisors is to be applauded. Director Tom Hooper (who made The Damned United) keeps things simple, relying on top-notch production design and costumes rather than flashy filmic flourishes, which sensibly enables the emotion rather than the gravitas to shine through. It is a moving and charming film that is entertaining, touching and informative….and all the better for it.
Production companies: The Weinstein Company, See-Saw Films, Bedlam Productions
International sale: FilmNation Entertainment
Producers: Iain Canning, Emile Sherman, Gareth Unwin
Screenplay: David Seidler
Cinematography: Danny Cohen
Production designer: Eve Stewart
Editor: Tariq Anwar
Music: Alexandre Desplat
Main cast: Colin Firth, Helena Bonham Carter, Geoffrey Rush, Guy Pearce, Timothy Spall, Jennifer Ehle, Michael Gambon, Derek Jacobi
.