Dir: Roger Donaldson. US. 2014. 108mins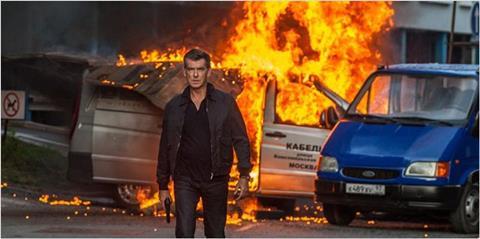 An unexceptional spy thriller hoping its bare-knuckle approach will help distinguish it from the pack, The November Man checks off all the genre prerequisites — tough guys with guns, beautiful women in skimpy dresses, international intrigue — but rarely raises one's pulse. Producer-star Pierce Brosnan brings a little class to what is otherwise a blah run-through of a familiar narrative about a retired spy looking for vengeance against his old protégé. The November Meh would be a more accurate title.
Trying to rise above the mediocrity is Kurylenko, who transitions from modest social worker to glammed-up sexpot killer in one of the film's more dubious sequences.
Opening August 27 in the US, this Relativity release will attempt to court older viewers uninterested in edgier action fare such as Sin City: A Dame To Kill For. Brosnan's connection to the James Bond franchise will be an asset, as might the presence of Olga Kurylenko, who co-starred with Daniel Craig in the more-recent Quantum Of Solace. But with summer movie season quickly fading away, there simply aren't enough butts to fill seats, probably dooming The November Man to mediocre returns. DVD and cable should prove a more comfortable fit for this forgettable secret-agent offering.
Based on the novel There Are No Spies by Bill Granger, who began this spy series with his 1979 book The November Man, the film stars Brosnan as Peter Devereaux, an ex-CIA operative who walked away from the job five years ago. But when Natalia (Mediha Musliović), a woman he loves, is ensnared in a plot in Moscow, he rushes to rescue her, only to watch her be murdered by David Mason (Luke Bracey), a lethal CIA agent and Peter's former mentee.
Wanting to get to the bottom of why Natalia was killed, Peter makes his way to Belgrade to find Alice Fournier (Kurylenko), a social worker specializing in victims of human trafficking. Peter believes she can help him locate a young woman, Mira, whose testimony would bring down the next president of Russia — and, in the process, avenge Natalia's death.
Director Roger Donaldson has occasionally made taut, intelligent, bone-dry thrillers (The Bank Job, Thirteen Days), but the stripped-down realism he usually brings to his films is largely useless in the service of a story that's equally derivative and overblown.
While Brosnan isn't exactly reprising his role as 007 — this film's dark tone and grim violence are actually more akin to the Bond movies of his successor, Daniel Craig — The November Man recycles some spy-movie clichés while adding a formulaic, unconvincing amoral attitude.
Coolly confident in his prowess yet flashing a weary antihero air, Peter is meant to be a prototypical burned-out agent: an effortless killer who bears the emotional scars of what he's done. Whether playing James Bond or, say, a slimy Prime Minister in The Ghost Writer, Brosnan has been at his best when he laces his dashing looks with a sly wit, which makes his characters both more appealing and more dangerous. Alas, Peter doesn't contain such depth, and so the actor mostly plays the part ramrod straight. Michael Finch and Karl Gajdusek's screenplay can't figure out a way to make the spy compelling.
This liability is paired with the film's overheated atmosphere in which meagre dramatic twists are pumped up by yelled dialogue and Marco Beltrami's pounding score. At its core, The November Man is a cat-and-mouse game between Peter and David, the skilful protégé still bruised because he feels that his mentor abandoned him after an operation went south five years ago. But this son-and-surrogate-father dynamic fails to spark: The movie doesn't do enough to flesh out their supposedly complicated bond, nor does it give enough time for them to show off their expertise. (And while Brosnan can rely on his charm, Bracey's anonymous sullenness fails to make his character a worthy foil.)
The November Man presents itself as a wised-up look at global spying. (This is the umpteenth recent film in which it's meant to be a shock that the CIA is filled with less-than-saintly operatives.) But whether it's the generic Russian baddies or the tired depictions of Eurotrash criminal underworlds, the film is peddling hand-me-down genre conventions, with even the big twist weighed down by predictably melodramatic flashbacks.
Not surprisingly, then, most of the performances stick to particular types: the crusty agency boss, the ice-cold assassin, the doe-eyed innocent. Trying to rise above the mediocrity is Kurylenko, who transitions from modest social worker to glammed-up sexpot killer in one of the film's more dubious sequences. Her transformation might be briefly pleasing to the eye, but like so much of The November Man, it barely lingers in the memory.
Production companies: Irish DreamTime, SPD Films, Das Films, The Solution Entertainment Group, PalmStar Media Capital, Merced Media Partners
US distribution: Relativity Media, www.relativitymedia.com
Producers: Beau St. Clair, Sriram Das
Executive producers: Kevin Frakes, Pierce Brosnan, Lisa Wilson, Myles Nestel, Raj Brinder Singh, Stuart Brown, Mike Sullivan, Ryan Kavanaugh, Tucker Tooley, D. Constantine Conte, Kevan Van Thompson, Alan Pao, Corey Lange, Ankur Rungta, Vishal Rungta, Scott Fischer, Remington Chase, Grant Cramer, Stepan Martirosyan
Screenplay: Michael Finch & Karl Gajdusek, based on the book There Are No Spies by Bill Granger
Cinematography: Romain Lacourbas
Production design: Kevin Kavanaugh
Editor: John Gilbert
Music: Marco Beltrami
Website: www.thenovemberman.com
Main Cast: Pierce Brosnan, Luke Bracey, Olga Kurylenko, Eliza Taylor, Caterina Scorsone, Bill Smitrovich, Will Patton