Dir: Claude Miller. France. 2012. 110mins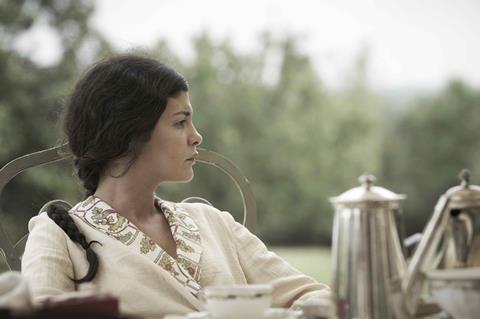 Claude Miller's elegant last film, completed shortly before he passed away, is far removed from the typical profile of a fun-filled Cannes closing night event, the bill it is supposed to fill this year. A thought-provoking drama, its quietly composed, controlled approach and traditional narrative style is better associated in spirit with the Cannes Classics section, in which it would deserve a place of honour. Mature audiences will respond enthusiastically and most festivals will pick it as a surefire prestige entry.
Thérèse Desqueyroux as directed by Miller and played by Tautou, wears a dour facial expression which keeps the mystery behind her motivations intact all through.
Fifty years after George Franju's adaptation of the Francois Mauriac novel reached the Paris screens, this new version of Thérèse Desqueyroux finally absolves its heroine of her oppressing guilt and allows her to stroll scot free through the streets of Paris.
Miller, who has been known to take liberties with literary sources before, eschewed Mauriac's flashback narrative for a linear one and by the time he reached the end, he even chose - very much unlike Mauriac - to forgive his heroine for attempting to poison her husband, adopting the position that since there has been no victim, there is no crime to atone for.
Based on a real-life incident, the novel takes place at the end of the 1920s not far from Bordeaux. Two of the richest families in the area are to be united when Therese Larroque (Audrey Tautou) marries Bernard Desqueyroux (Gilles Lellouche), the brother of her best friend, Anne (Anais Demoustier). Therese, bright and intelligent but a restless introvert, looks forward to the marriage as a way of achieving the peace of mind she badly needs. Bernard may be an unassuming fathead but he could provide a solid, well-protected, serene future with no surprises in sight.
But soon enough, her sister-in-law's scandalous affair with Jean Acevedo (Stanley Weber), the son of the rich Jewish family next door, drags her out of her intended complacency and requires she take a stand.
Through her own meetings with Acevedo she has a glimpse of a world vastly different from the one she was born in. And when she becomes pregnant to a husband she likes less and less with every passing day, she eventually gives birth to a daughter but displays no maternal affection for her. A fire breaks out on the property, showing Bernard to be helpless, indecisive and hysterical, and once he starts taking arsenic drops for an imaginary ailment, she can't resist the temptation to increase the doses of his medication beyond the doctor's prescriptions.
As she is about to be prosecuted for attempted murder, she is saved by family honor, and charges are dropped to prevent a scandal. Instead, she is sent to live in the country house with the servants and ordered not to leave her room, with appearances saved by spreading rumors that she is suffering from an unspecified ailment, which she further enhances by living on cigarettes and wine.
It is only after Anne's marriage to a respectable local heir, that Therese is allowed to move to Paris, away from her daughter and the rest of the family.
A later day Madame Bovary, rebelling against the rules of her class and its strict Catholic morality, Thérèse Desqueyroux as directed by Miller and played by Tautou, wears a dour facial expression which keeps the mystery behind her motivations intact all through. The introverted frustration boiling inside never breaks out, except in a couple of dream sequences, when she imagines jumping off the train on the way back from her honeymoon or setting fire to the already burning woods. Remarkable make-up and hairdo underline the middleclass provincialism of her character, which she finally escapes in a final sequence.
Bernard, played by Philippe Noiret in Franju's picture as a mean middle class provincial brute, is softened down in Gilles Lellouche's interpretation to a bland, dull, hypochondriac one is tempted at times to feel sorry for. If there is a villain in this piece, it is the bourgeois family institution, with its set of values putting property and pretense above everything else, allowing no one to escape its iron clasp.
Production company: UGC
International sales: TF1 International, www.tf1.fr
Producer: Yves Marmion
Screenplay: Claude Miller, Natalie Carter
Cinematography: Gerard de Battista
Editor: Veronique Lange
Production designer: Laurence Brenguier
Main cast: Audrey Tautou, Gilles Lellouche, Anais Demoustier, Catherine Arditi, Isabelle Sadoyan, Francis Perrin, Jean-Claude Calon