Dir: Tomas Alfredson. UK. 2011.128mins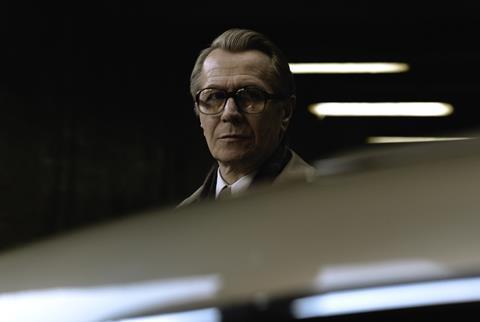 A complex web of betrayal and retribution is spun with elegant assurance in Tomas Alfredson's melancholy adaptation of the classic John le Carré Cold War thriller. The densely plotted saga of cloak and dagger intrigue is expertly crafted and remains utterly absorbing without recourse to the pulse quickening action ethos considered essential in the Bourne era.
A crisp, smoothly textured script by Peter Straughan and Bridget O'Connor is well served by the calm control of Alfredson's direction.
Gary Oldman dominates as inscrutable spymaster George Smiley, heading a flawless who's who ensemble of prime British talent. The film should be essential viewing for an upscale, older demographic who have previously embraced literate, top class British fare like Atonement and The King's Speech.
Oldman has the unenviable task of following Alec Guinness who played the Sphinx-like Smiley in the BBC's acclaimed 1979 adaptation of Tinker Tailor... Oldman adopts the ghostly pallor and nondescript manner required for the role, offering a masterclass in perfectly nuanced minimalism. A raised eyebrow or the flicker of a smile convey a wealth of emotional detail in a performance that seems likely to gain awards traction in the afterglow of the film's world premiere at Venice.
Set in 1973, Tinker Tailor… is immersed in the grubby business of international espionage. It is a grey world of faceless men playing deadly games in which nobody can be trusted.
Oldman's Smiley is secretly reinstated to investigate the rumour of a mole operating at the very top of British intelligence. The suspects include bumptious Percy Alleline (Toby Jones), Cold War zealot Roy Bland (Ciarin Hinds), smug womaniser Bill Haydon (Colin Firth), prissy émigré Toby Esterhase (David Dencik) and even perhaps Smiley himself. Unraveling the traitor is a chess game of bluff and double-bluff that crosses continents and time periods as we discover who has been pulling the strings behind a stunning breach of loyalty.
Tinker Tailor methodically sets out all the evidence and works as a superior thriller, but has greater impact in the way it reveals the human cost of global politics. Everyone has their secrets and sorrows, everyone has paid a price for their service to queen and country, especially Smiley and loyal operatives like Jim Prideaux (Mark Strong) and Ricky Tarr (Tom Hardy).
A crisp, smoothly textured script by Peter Straughan and Bridget O'Connor is well served by the calm control of Alfredson's direction and an understated production design that emphasises the drab, cold world of the spying game over jarring period details.
The pace may feel a little deliberate for some tastes, but the slow burn pays off in a richly satisfying piece of storytelling brought to life by a once in a generation cast that also includes Benedict Cumberbatch as Smiley's legman Peter Guillam, John Hurt as MI6 Leader Control and the welcome screen return of Kathy Burke as lonely researcher Connie.
Production Companies: Working Title, Focus Features, StudioCanal, Karla Films, Paradis Films, Kinowelt Filmproduktion, Canal+ and CineCinema
International sales: StudioCanal
Producers: Tim Bevan, Eric Fellner, Robyn Slovo
Executive producers: Debra Hayward, Liza Chasin, Olivier Coursin, Ron Halpern, John le Carré, Peter Morgan, Douglas Urbanski
Screenplay: Peter Straughan, Bridget O'Connor based on the novel by John le Carré
Cinematography: Hoyte Van Hoytema
Production designer: Maria Djurkovic
Editor: Dino Jonsater
Music: Alberto Iglesias
Main cast: Gary Oldman, Colin Firth, John Hurt, Benedict Cumberbatch, Tom Hardy, Toby Jones