Dir/scr: Terrence Malick. US. 2012. 113mins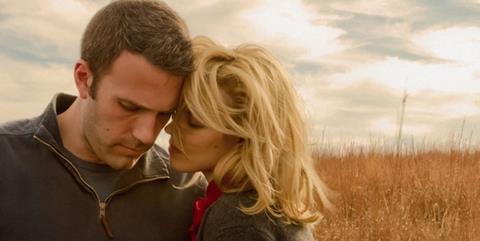 After The Tree Of Life, Terrence Malick continues his slow wade into the mystic swamp in To The Wonder, shedding vain and distracting directorial possessions like character, dialogue, acting and story along the way in order to focus on the cosmic universals – though this time with a more overtly Christian flavour. It may be that we're being taken into a dream life of remembered fragments here, or perhaps a series of flashbacks in the instant before death, played in extreme slow motion.
Emmanuel Lubezki's magic-hour photography is as ravishing as ever – and together with Hanan Townshend's sensitive, unfurling orchestral soundtrack, comes darn close to nailing 'the wonder' at times.
The problem is that Malick's dream of life, with its narrative core of a weak man with a paralysing fear of emotional commitment, just isn't that interesting or original. The pictures are pretty, the music is pretty, the existential voice-overs are pretty: but after almost two hours of wistful, message-larded prettiness, Malick's latest visual symphonic poem has us squirming in our seats.
More booed than applauded at its Venice press premiere, the film will struggle to match the respectable arthouse and urban miniplex world tour enjoyed by The Tree of Life. One problem is that it is, essentially, more of the same – not so much Tree Of Life 2, as Tree Of Life Redux – and as the end titles reveal, Malick even reuses footage from his previous film. Another snag is that if the performances of Brad Pitt and Jessica Chastain gave an edge to that fitfully engaging cosmic ramble, the same cannot be said of the name cast of To the Wonder – though it's perhaps not Ben Affleck and Javier Bardem's fault if they never take off. It's feels as if Malick has told them just to wander around looking pained.
Playing out like a short treatment, the story opens in France, where a couple whose names we never learn (unless we read the pressbook) are captured, via impressionistic, jump cut fragments, in the throes of first love. They're played by an affectless Affleck and Ukrainian-born French actress Olga Kurylenko, whose look-at-me mannerisms are a distraction to all but the worshipping camera.
She turns out to have a ten-year-old daughter, Tatiana (Chiline, in one of the film's only really convincing performances) who gets on well with her mum's new boyfriend. After a visit to the island monastery of Mont St-Michel – which (as we are not informed) was once known as 'La Merveille', or The Wonder – they relocate to somewhere in the Mid-West (actually Oklahoma), where the Affleck character seems to work as an environmental engineer for a mining company (we see him wandering over slag heaps and being cornered by residents angered by the lead and cadmium levels in their backyards).
The honeymoon phase soon wears off – for the woman, as well as the audience – and she looks for spiritual guidance from a Catholic priest (Bardem, whose sudden, incongruous appearance on the screen prompted a burst of laughter from the Venice audience) who is himself going through a moody crisis of faith.
With Tatiana not fitting in at her new school, her mother's visa running out and Affleck's character too frozen by his fear of commitment to offer marriage, mother and daughter eventually leave. While they're away, Affleck takes up with Jane (McAdams), an old childhood flame. But the Kurylenko character can't find work back in Paris, and wants to return to give the relationship one more chance.
That sounds almost like a story, but Malick's method, as in The Tree Of Life, is to shoot around scenes rather to shoot scenes, to encourage what looks like extensive improvisation – and then edit the few more conventional dramatic sequences to lose most of the dialogue; Affleck is left with barely a line. One of the few characters who is given much dialogue is Italian actress Romina Mondello, who suddenly pops up as a confidante we never realised the Kurylenko character had. It's an odd choice, as the virtual monologue in which she encourages her friend to free herself (in Italian – one of four languages that appear in the film) is one of the film's more ridiculous scenes.
Emmanuel Lubezki's magic-hour photography is as ravishing as ever – and together with Hanan Townshend's sensitive, unfurling orchestral soundtrack, comes darn close to nailing 'the wonder' at times. But the reduction of drama to voice-over comments and revelations (Bardem's are in Spanish, Kuryenko's in French and English) becomes wearing well before the mid-point.
When the Kurylenko character murmurs "We fight", it's news to us – but then, as if by magic, we see her and her man fighting. This is story, and male-female relationships, reduced to the schematic level of The Four Ages of Man, and Malick's undoubtedly sincere attempt to reach beyond the deceiving surface to the essence of things feels, in the end, like a brand of coffee-table existentialism.
Production companies: FilmNation Entertainment, Brothers K Productions
International sales: FilmNation Entertainment, www.wearefilmnation.com
Producers: Sarah Green, Nicholas Gonda
Executive producers: Glen Basner, Jason Krigsfeld, Joseph Krigsfeld
Cinematography: Emmanuel Lubezki
Editors: A.J. Edwards, Keith Fraase, Shane Hazen, Christopher Roldan, Mark Yoshikawa
Production designer: Jack Fisk
Music: Hanan Townshend
Main cast: Ben Affleck, Olga Kurylenko, Rachel McAdams, Javier Bardem, Tatiana Chiline