Dir: Clark Gregg. US. 2013. 90mins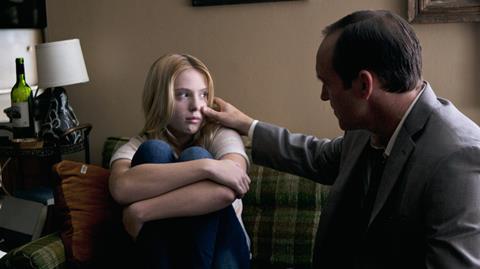 Can a child star get a fair shake in Hollywood? A shake-down is more likely, as seen in Trust Me, in which director/star Clark Gregg's cynicism is saved by his satire.
Gregg captures the awkward restlessness of the talent promoter who's lost everything but hope, addicted to the next teenager's deal like a compulsive gambler.
Gregg plays a former child star, now an agent who represents child actors, in a knotted tale of Tinseltown duplicity. His parable of injustice at an early age with a dream team cast could rise above the pack of backstage dramas if nubile newcomer Saxon Sharbino catches on with the young audience. A parade of witty turns from marquee names will also help, although the beautiful Sharbino is crucial to leveraging interest outside of English-speaking territories.
And then there's the problem of making any agent likeable, even in an industry that can peddle flying dinosaurs.
Howard Holloway (Gregg) is on the outs, even by loser standards. He lives in a cheap apartment in Hollywood and operates out of a storage locker.
His luck seems to shift when he finds Lydia (Sharbino), a girl of 13, who stands to star in a Twilight-like franchise directed by Ang Lee. Yet mega-agent nemesis Aldo Stankis (Sam Rockwell) wants to poach her, her alcoholic father (Paul Sparks) needs booze and cash, and the project's casting agent (Allison Janney) and producer (Felicity Huffman) loathe Howard. Lydia proves to be shrewd beyond her years, which doesn't make the film's losers any less unfortunate.
Gregg's script, which he calls a neo-noir, has enough odd twists folding upon themselves to veer into gothic places, including a truncated finish. The existential malaise of a hapless has-been agent seeking success among entertainment's most exploited of the exploited has a fatalism that gets at the feel of Chinatown (Lydia was pimped by her mother) and Robert Altman's 1970's private eye films.
Noir or not, Trust Me is also a clever ensemble comedy, with endless wry comments on show business and "innocent" characters, plus jokes about losers with Howard in mind – all told shamelessly to his face, with special aplomb by Rockwell and Huffman. It's a long way from Marvel's The Avengers, in which Gregg had a key role (as he did in the preceding Marvel films that ran to the film) as Agent Peters.
Cinematographer Terry Stacey shoots the comic drama tightly in office lobbies and parking lots, rarely opening the camera widely into the landscape. The visual commentary on the limited horizons of any career in show business is clear enough, and Trust Me looks and feels claustrophobic.
In a cheap suit – that he slept in - Gregg captures the awkward restlessness of the talent promoter who's lost everything but hope, addicted to the next teenager's deal like a compulsive gambler. Huffman, one of many adversaries, masters the cruel deadpan that refuses to waste much time on air-kiss insincerity.
Thanks to the talent (friends) that he could draw - no doubt without large agents' fees - Gregg assembled a cast that covers the less radiant extremes of the Hollywood palette. As a mother abandoned by her husband in an apartment on Howard's low-rent court, Amanda Peet is desperate enough to consider dating Howard, and desperate in her job selling Audis to showbiz glitterati, with sleazy car dealer boss William H. Macy jealous of Howard entering her life – is car lot sleaze an homage to Fargo?
Trust Me is a title that trumpets its own falsehood, and a story true to its subject in scenes that mix grimaces with laughs. It's a long shot to make money, but Gregg's agent can at least be proud.
Production companies: Unified Pictures, Savage Bunny, Bron Studios, Visionary Pictures, Amberdale Productions, Luma Pictures, IAM Entertainment
International sales: Radiant Films, http://radiant-films.com
Producers: Keith Kjarval, Aaron L. Gilbert, Mary Vernieu, Clark Gregg, Raju Hariharan, Akshaii Hariharan, Brad Greiner
Executive producers: Raymond Brothers, Scott Glassgold, Payam Shohadai, John Raymonds, Ronald J. Giacose, Tara Moross, Randy Wayne, Jeff Rice, Sam Rockwell
Cinematography: Terry Stacey
Editor: Kathryn Himoff
Production designer: Stephen Altman
Music: Mark Kilian
Main Cast: Clark Gregg, Felicity Huffman, Allison Janney, William H. Macy. Niecy Nash, Amanda Peet, Sam Rockwell, Molly Shannon, Saxon Sharbino, Paul Sparks