Dir/scr: Patrice Leconte. France. 2011. 91mins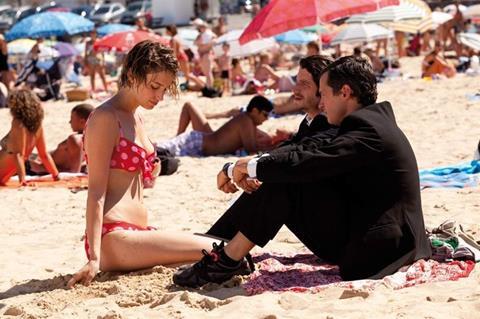 With over 25 features to his credit, including monster popular hits (Les Bronzés trilogy) and international art house successes (Ridicule, The Girl on the Bridge, The Hairdresser's Husband, Monsieur Hire), in Voir la mer Patrice Leconte has written and directed a gently libertine movie that plays like a first film.
The film sustains its tone of matter-of-fact whimsy, with more than a passing nod to Jules et Jim.
A simple, casually subversive four-character romantic comedy in which a free-spirited young woman leaves her obsessive older lover to frolic her way across France with two auto-mechanic brothers, this is a pleasant but negligible entry in Leconte's filmography.
Opening to critical praise (and profiting from a sexy poster) this 3.6 million euro production's future beyond French-lingo territories is, nonetheless, probably primarily in Leconte retrospectives and as evidence that working as a TV weather girl is a great career move in France; debuting female lead Pauline Lefevre follows former TV weather girl Louise Bourgouin (The Girl from Monaco, The Extraordinary Adventures of Adele Blanc-Sec) on to the big screen with quirky verve.
Leconte's career-long love of widescreen composition (he frames his own shots) is very much on display throughout the story, which starts in a nightclub in Burgundy. Nicolas (Nicolas Giraud), barely 30, wonders why lovely Prudence (Lefevre ) is sitting all alone in the club's whirlwind of activity.
Fortyish, slightly thuggish Max (Gilles Cohen) urges him to ask her to dance, which he does, to no avail. Max – who turns out to be her loose canon boyfriend — then demands that Nicolas apologise for bothering Prudence and smacks the young man without provocation.
Within hours, Prudence is at Nicolas's doorstep, announcing she has left Max and asking if she can stay. Nicolas is baffled by his seeming good fortune and will remain that way as Prudence joins Nicolas and his dour older brother Clement, (Clement Sibony) on a road trip across half the country in a mobile home.
The ostensible motive is to visit the boys' ailing mother and distract Clement from the fact his girlfriend just dumped him. And Prudence, like many a road trip hero or heroine before her, has never seen the sea. Max, who has a gun, is on their trail, determined to win Prudence back.
Shapely and uninhibited Prudence announces that she's attracted to both brothers and sees no reason for jealousy to rear its ugly head. And indeed, there isn't. Mutually satisfying sex ensues as they take turns sweetly and energetically exploring the pleasures of the flesh. The film is particularly good at conveying what a revelation it is for both lads to luxuriate in Prudence's charms without a shred of possessiveness or rivalry.
There's genuine comic inspiration in a nervous attempt to hot-wire a car, a butter cookie eating contest and a game that evolves from the notion that mustard tastes best in Dijon because it hasn't had to "travel." But Max isn't giving up and Fate is also on the prowl.
The film sustains its tone of matter-of-fact whimsy, with more than a passing nod to Jules et Jim. There is not a sliver of intellectualism. The characters are earthy and sensual and spontaneous in summery settings. The camera looks at clouds and trees and skin as if discovering how beautiful and simple life can be.
This is a harmless and refreshing placeholder en route to Leconte's sardonic animated 3-D take on the novella The Suicide Shop due out next year.
Production companies: Produire à Paris, France 2 Cinema, StudioCanal
International sales: StudioCanal
Producer: Charles Gassot
Screenplay: Patrice Leconte
Cinematography: Jean-Marie Dreujou
Production designer: Ivan Maussion
Editor: Joelle Hache
Music: Etienne Perruchon
Main cast: Pauline Lefevre, Nicolas Giraud, Clement Sibony, Gilles Cohen