Dir: Mark Mylod. US. 2011. 106mins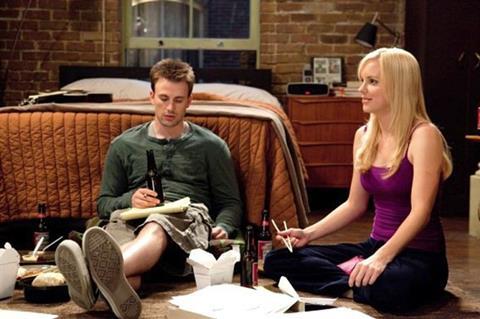 A perky, mildly raunchy turn by Anna Faris is the only real bright spot in formulaic and mostly forgettable romantic comedy What's Your Number? After a summer heavy with romcoms of varying quality there's a danger that this lightweight entry might seem a bit too familiar even to devoted fans of the genre.
Some slightly racy dialogue gives the film a fashionably edgy feel.
The Fox-distributed Regency production will probably find a youngish female-skewed audience when it opens in the US and UK on Sept 30, but it may not perform as well as Faris' 2008 hit The House Bunny. Co-star Chris Evans, from this summer's Captain America: The First Avenger, might help attract a slightly bigger than average international audience.

Faris' Ally Darling has just lost her job and another boyfriend when she reads a magazine article pronouncing that most women who've had 20 or more lovers can't find a husband. Already at number 19, Ally hatches a plan to look up all her old boyfriends – none of whom, of course, would count as number 20 – in the hope of finding one who's changed enough to be hubby material.

The plan creates opportunities for a string of cameo appearances but none of the actors playing Ally's exes – among them The Office's Martin Freeman and Saturday Night Live's Andy Samberg – finds enough in the script to produce a standout performance.

In fact, the ex-boyfriend plan mostly serves just to put off the inevitable moment when Ally realises she should really be with Colin (Evans), the sexy neighbour/friend who's been helping her track down the old lovers.

Some slightly racy dialogue gives the film a fashionably edgy feel but it's never shocking enough or funny enough to produce big laughs. A subplot about Ally's disappointed mother (played by Blythe Danner) and the wedding of her perfect sister (Ari Graynor, from Holy Rollers) just adds to the clichéd feel.


Production companies: Regency Enterprises, Contrafilm
Worldwide distributor: 20th Century Fox
Producers: Beau Flynn, Tripp Vinson
Executive producer: Anna Faris, Arnon Milchan, Nan Morales
Screenplay: Gabrielle Allan, Jennifer Crittenden
Cinematography: J Michael Muro
Production designer: Jon Billington
Editor: Julie Monroe
Music: Aaron Zigman
Website: www.whatsyournumbermovie.com
Main cast: Anna Faris, Chris Evans, Ari Graynor, Blythe Danner