Fox's latest spin off in the Marvel franchise takes £5.4m from 507 screens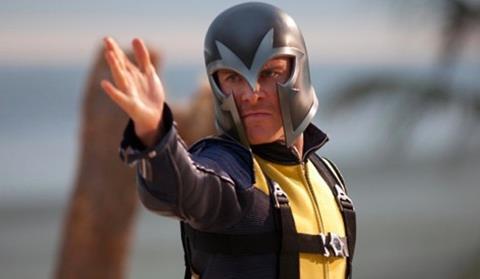 Fox's X-Men: First Class landed in first place in the UK last weekend, grossing £5.4m from 507 screens at a week-high screen average of £10,828. The total included £2m from 466 previews, without which First Class wouldn't have been top.
While the haul was enough to see off The Hangover's holdover performance and Pirates' third week take, the numbers weren't spectacular given the franchise's previous sucess.
Previous spin-off X-Men Origins: Wolverine took £6.7m from 20 fewer screens on debut two years ago, while third in the franchise proper, X Men: The Last Stand opened on £7.1m from 488 in 2006 and X2 made £7m from 449 in 2003. X-Men made £4.7m from 434 in 2000.
The film represents Mathew Vaughn's biggest UK opening as a director, taking £1.5m more than previous best Kick-Ass.
The Hangover Part II dropped 63% over its holdover weekend but still took £3.8m from 475 screens at a healthy £8,055 average. The comedy's £21.1m to date is only £600,000 off the original film's 2009 final total.
Disney's third-placed Pirates Of The Caribbean: On Stranger Tides continued to do decent business over its third weekend, making £2.1m from 517 screens at an average of £4,147.
The fourth film in the franchise is well ahead of the first film's $14m after three weeks but behind the last two instalments which had both amassed £33m at the same stage in their runs.
Omniverse's fifth-placed JLS: Eyes Wide Open 3D was the best of the remaining three top-ten debuts, taking £463,914 from 210 screens.
Universal's Formula One bio-doc Senna made an impressive £375,173, the highest for a sports-related documentary in the UK, edging out the similar and almost equally popular TT3D which took £312,998 from 12 more screens six weeks ago.
Eros' seventh-placed Ready, a Thailand and India-set romance-comedy in which a case of mistaken identity leads to love, also did well on £236,868 from only 50 screens.
Optimum's Last Night debuted in 11th, taking £51,245 from 47 screens, while Disney's Prom - the only other top 20 opener - was left out in the cold managing only £34,885 from 112 screens at a meagre average of £311.
As in the previous three weeks and in keeping with the summer pattern, this weekend sees one saturation release for a dominant title go virtually unopposed as Paramount's Kung Fu Panda sequel kicks off its run with a string of previews. Optimum's Mother's Day and Universal's Honey 2 are the only others to get wide coverage.