Dir: Cao Hamburger. Brazil. 2012. 102mins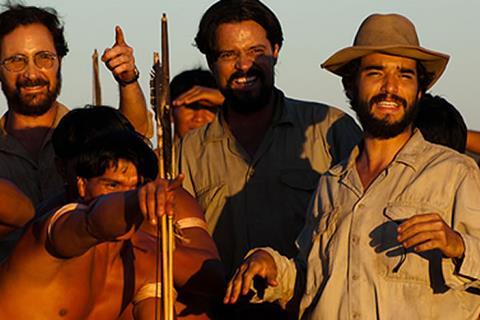 The sweeping and epic fact-based story of the founding of Brazil's Xingu National Park, which is home to indigenous people, is told with power and style by director Cao Hamburger (whose acclaimed second film The Year My Parents Went On Vacation screened at Berlin in 2007), and the story of the Villas-Boas brothers and their impact on Brazilian history makes for compulsive viewing.
Xingu is a powerful also extremely watchable film.
Savvy art house distributors could well be intrigued by the film's scope and impressive cinematography as well as the news-page friendly real-life story, while other film festivals berths would be a given. The film screened in Berlin as a Panorama Special screening.
The film opens with the adventure-seeking brothers – Orlando (Felipe Camarago), Claudio (Joao Miguel) and Leonnardo (Caio Blat) - making themselves as disheveled as possible in a bid to sign up with the Brazilian government's 'March West', a plan in the early 1940s to head into the unknown and undeveloped central territory to build roads and airstrips.
They soon find that the plans mean encounters with numerous tribes of indigenous people – many of whom had never encountered a white man before – with the genial and intelligent brothers (who lied about their schooling to get jobs on the expedition in the first place, who had good jobs and traded it all for "life in the wild") gradually learning bits of the natives' language and enjoying their encounters.
When a flu epidemic – transmitted by the expedition – nearly wipes out an Indian village the brothers come to realise the consequences and responsibilities of their involvement, and decide (against all the odds and in an engagingly idealistic fashion) to work towards the forests and jungle being deemed a safe haven for the indigenous tribes.
The sequences of the brothers first encountering the tribes are marvelously slot, with cinematographer Adriano Goldman making great use of the locations, and Camarago, Miguel and Blat all doing a fine job of presenting the varied characteristics of the three fee-spirited yet innately civilised and sensitive brothers. The film gradually switches from the harsh outback to the equally complex and dangerous jungles of the Brazilian political system as they battle to create the save haven for the tribes.
Director Cao Hamburger directs with a sure hand and a great sense of the scale and underlying importance of his project. The blend of archival images and a thoughtful voiceover help keep the balance between adventure and drama. Xingu is a powerful also extremely watchable film.
Production companies: Natura Ekos, O2 Filmes, Globo Filme
International sales: Rezo Films, www.rezofilms.com
Producers: Fernando Meirelles, Andrea Barata Ribeiro, Bel Berlinck
Screenplay: Elena Soarez, Hamburger, Anna Muylaert
Cinematography: Adriano Goldman
Editor: Gustavo Giani
Music: Beto Villares
Production designer: Cassio Amarante
Main cast: Joao Miguel, Felipe Camarago, Caio Blat, Malarim Kaiabi, Awakari Tuma Kaiabi, Adana Kambeba, Tapaie Waura, Totomai Yawalapiti, Maria Flor, Agusto Medeira, Fabio Lago