Dir. Eytan Fox. Israel. 2012. 83mins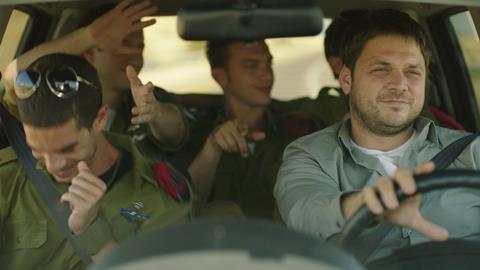 A sequel to Eytan Fox's breakthrough gay story of love and loss on the front lines, Yossi & Jagger (2002), this tender new drama follows Yossi, now a doctor, who turns the corner on the enduring pain of grief. The film had its world premiere at the Tribeca Film Festival.
Fox's film becomes a deft generational fable about the old being pushed into learning lessons from the young.
Yossi, poignant and often darkly comic, is sure to be all over the festival circuit, probably an opener at many gay film festivals. It can build on a loyal worldwide (albeit limited) audience for Yossi & Jagger, and on the rising profile of Israeli features, some of which (by Fox, among others) explore gay subjects. This story of healing will share a niche in gay cinema with the film that preceded it.
Yossi's eponymous taciturn character, reprised by Ohad Knoller, is a former squad commander who is now a paunchy closeted heart specialist (get the allusion?) whose anxieties are pushing their way into lonely nights with Internet porn and a growing detachment from his hospital job that almost causes a patient's death.
(Allusions throughout suggest that the film assumes that audiences saw Yossi & Jagger, in which two soldiers have a secret relationship, and the younger handsome Jagger dies in a night raid near the Lebanese border.)
Told to take a vacation, the thirty-something cardiologist leaves his hospital for the resort town of Eilat, after a surprise appearance of Jagger's mother as a patient leads to a grim sudden confession by Yossi at the home of his former lover's parents.
Yossi's solitary trip turns into an improbable road movie when he picks up four immature and garrulous hitchhiking soldiers who taunt him with the nickname Mozart because he plays classical music on his car radio.
Things pivot when one of the soldiers, Tom (Oz Zehavi), happens to gay. The suave muscular youth is far more at ease with his sexuality than is the older Yossi. Fox's film becomes a deft generational fable (and a twist on Death In Venice) about the old being pushed into learning lessons from the young.
The script by Itay Segal follows familiar contours, Yossi spurns the advances of women pursuing an unmarried doctor and medicates himself with erotic websites in clinical hospital surroundings, before he heads into the desert.
A parallel journey is tracked on the expressive face of the sad-eyed Ohad Knoller. Mute (as befits the closeted character) for much of the film, Knoller exudes unease and loneliness. Fox finds a balance to keep you laughing at his pain while also feeling it.
As Tom, the confidently composed Zehavi makes the film's generational point that macho Israel has entered a new era – yet grieving Yossi is left behind, a perennial fate for the survivors of the war dead.
Fox's directing is delicate. Every acting detail in the understated drama assembles a portrait of the fragile Yossi as a casualty, driven by the norms of the army at the time he served to closet himself in civilian life as he did in uniform.
The supporting cast is solid – from dutiful well-meaning medical colleagues to rowdy soldiers. Orly Silbersatz Banai hits a sensitive nerve as Jagger's mother, who makes memories unbearably acute when she enters Yossi's life as a hospital patient and resists accepting a troubling truth about her son after his death.
Israel is presented as neither exotic nor rabidly militaristic – just another modern society that allows the wounds of its soldiers to go unhealed, even as its attitudes evolve toward sexual tolerance.
Production companies: Reshet TV, Yes Cable Company, Israel Film Fund, United King Films, Lama Productions
International Sales: Films Distribution, www.filmsdistribution.com
Producer: Amir Harel
Executive producers: Moshe Edery, Leon Edery
Screenplay: Itay Segal
Cinematography: Guy Raz
Editor: Yosef Grunfeld
Production designer: Mor Barak
Music: Keren Ann
Main cast: Ohad Knoller, Lior Ashkenazi, Oz Zehavi, Orly Silbersatz Banai, Ola Schur