Dir: Koji Wakamatsu. Japan. 2012. 119mins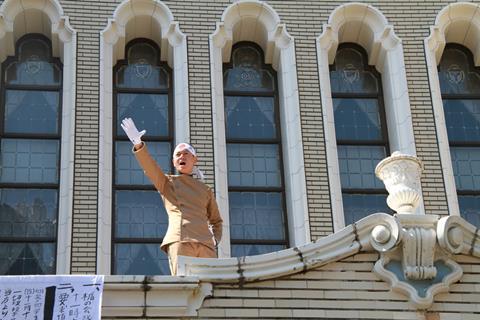 The life and death of a Japanese icon are studied in glacially analytical fashion in 11/25 The Day Mishima Chose His Own Fate (11.25 jiketsu no hi, Mishima Yukio to wakamonotachi), a radically de-dramatised biopic of novelist turned right-wing activist Yukio Mishima. Veteran Japanese director Koji Wakamatsu has recently thrived on the festival circuit with acclaimed titles including United Red Army (2008). 11/25 could be considered a thematic sequel to the latter, which dealt with leftist militants in the 70s; now Wakamatsu turns his attention to Japan's extreme right around that time.
Densely, even off-puttingly crammed with political exposition.
Despite global interest in his writing and myth, Mishima never emerges here as compelling in his own right, but as one player in a complex political game. The film's chilly execution and cumbersomely fact-laden narrative will make it a tough export, although it can be expected to thrive at festivals with a bent for rigorous austerity.
Subtitled 'Mishima and His Young Followers', 11/25 deals with the militant coterie that Mishima (Arata Iura) built around himself. By the 60s, Mishima was considered a leading Japanese candidate for the Nobel Prize, but in the second half of the decade, his life was increasingly dominated by right-wing politics. Amid a background of political turbulence, with militancy on both right and left, Mishima was a committed reactionary, espousing the traditional belief in the godlike status of the Emperor.
Making friends among a right-wing students' organisation, Mishima founds and finances the Shield Society, a uniformed militia of his acolytes; Mishima instils in them a belief in traditional samurai values. On November 25, 1970, Mishima and a group of Shield Society officers put their beliefs to the ultimate test, capturing an army general and attempting to incite a coup d'état. Failing in his goal, Mishima kills himself in traditional seppuku fashion.
This disturbing story is told in a style that is borderline-Brechtian in its downplaying of dramatic affect. The narrative - interspersed with newsreel footage and voice-over commentary - is staged in spare settings that are predominantly beige and white. The acting style is flat and formal, except in scenes where Mishima and others wax passionate, with a conventional histrionic intensity that Western viewers may find hard to swallow. Towards the end, Mishima's harangue to assembled militia shows the latter only in interspersed still shots, in deliberately alienating fashion.
Densely, even off-puttingly crammed with political exposition, the film comes across as a fastidiously documented pedagogical exercise. It never seeks to mythify its subject - as Paul Schrader did in his considerably lusher Mishima (1985) - but the concentration on him as political force rather than as writer or man makes him hard to engage with, especially given Iura's studiedly monotone performance. Notable ellisions are the role of Mishima's wife Yoko (Shinobu Terajima), who barely emerges in her own right, and the matter of Mishima's homosexuality. The latter figures only implicitly, in the fetishistic militarism of the Shield Society, and when Mishima talks strategy with his inner circle in a sauna.
The final sequence achieves some dramatic tension because of the outright intensity and strangeness of the real-life events: but by this point, the film has sacrificed dramatic momentum through its often somnolent tone. Fumi Itabsashi's Jarrett-esque jazz piano score - mixed down bizarrely low - distances events even further, while clean, largely static DV photography adds to the oddly clinical feel.
Production companies: Shkole Co Ltd, Wakamatsu Production
International sales: Wild Bunch, cbaraton@wildbunch.eu
Producers: Noriko Ozaki, Koji Wakamatsu
Screenplay: Masayuki Kakegawa, Koji Wakamatsu
Cinematography: Tomohiko Tsuji
Editor: Kumiko Sakamoto
Music: Fumio Itabashi
Main cast: Arata Iura, Shinnosuke Mitsushima, Shinobu Terajima, Soran Tamoto