Dir: Noam Murro. US. 2014. 103mins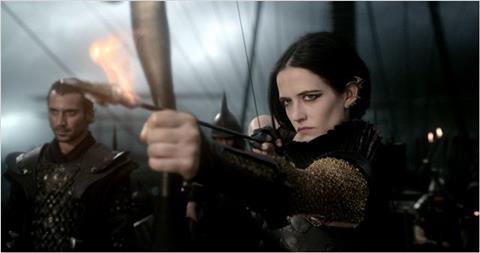 The third and biggest-budgeted sword-and-sandal action movie to arrive this year, 300: Rise Of An Empire unfolds in 480 BC, but it might as well be "K.C.," or Known Commodity. Such is the laid track that this punishingly brutal follow-up to Zack Snyder's influential 300, which told the story of the battle of Thermopylae and a group of Spartan soldiers' valiant but ultimately futile defense against a marauding army of Persian invaders, unfolds upon. With its low-angle shots, ominous thunderclaps, glistening pecs and bellowed celebrations of freedom, Rise Of An Empire peddles a very particular, fetishised form of masculine hero worship in telling the story of a concurrent naval campaign, but all in service of little more than a state-of-the-art showcase for unremitting violence.
The dark-eyed Green has an easy touch with malevolence, and she makes Artemisia a worthy femme fatale, even if tongue-kissing lopped-off heads seems a bit much.
The original 300 was one of those Hollywood self-touted game-changers that actually truly was; released in March, 2007, the stylised, super-violent historical war drama broke all kinds of domestic spring box office records en route to $210 million in theaters, and pulled in another $245 million overseas. It also spawned all sorts of imitators of its mesmeric, affected visual presentation, and enshrined director Snyder (who here takes a screenwriting and producing credit) at distributor Warner Bros., where he has since gone on to make Watchmen, Sucker Punch and Man Of Steel.
Seven years is a long time to wait between series installments, and while graphic novelist Frank Miller's fan base and Rise Of An Empire's lack of brawny competition this weekend (the only other wide opener in the US is Fox's animated Mr. Peabody & Sherman) will give the movie a leg up, holdover business from Non-Stop and impending competition from Need For Speed will cut into the film's hold on the imaginations and wallets of predominantly young male moviegoers. International theatrical receipts should be robust and an even bigger percentage of return than for 300.
Rise Of An Empire stands astride the events of 300, with events unfolding before, during and after it. After Greek general Themistocles (Sullivan Stapleton) fells Persian King Darius (Igal Naor) in battle, it sets off a chain of revenge. Darius' son, Xerxes (Rodrigo Santoro), is elevated to both a king and a god with the aid of Artemisia (Eva Green), his brutal naval commander. While Xerxes declares war, Artemisia is the one who prosecutes it, while Themistocles struggles to match her with fewer resources. Among others reprising their roles from the first movie are Lena Headey as widowed and vengeful Spartan Queen Gorgo and David Wenham as Dilios.
It may owe to the source material, but the weird redirection of conflict in Rise Of An Empire strongly contributes to its unmoored feeling. Themistocles puts an arrow in Xerxes' father, but the man-turned-god plays second fiddle throughout to Artemisia, and seems less personally motivated by revenge, which gives the movie an odd, off-center sense of dramatic gravity. Tellingly, the film's most substantive character beat is an oddly concocted 'hate-fuck' between Themistocles and Artemisia, which comes about after she attempts to bribe him to join her.
Otherwise, Snyder and Kurt Johnstad's script, based on a graphic novel by Miller after the first film's success, is a mélange of familiar bits and half-cooked motivations ladled over graphic bloodletting. There is absolutely a place for this sort of faux-historical entertainment — for bombastic films of representational value — but Rise Of An Empire lacks the characterisations and intrigue to make it work. This film could be fun, or it could be grisly and of more consequence. Instead, it's like watching someone else play a videogame.
Many of the below-the-line artisans, like cinematographer Simon Duggan and production designer Patrick Tatopoulos, are new. But Rise Of An Empire, shot on RED cameras, painstakingly apes its predecessor in its saturated, chroma key composited look and feel, and outstrips it in brutality. (If someone is counting most arterial sprays of blood in a single movie, this has to be a contender.) It lacks the detail and scene-to-scene tension that helped sustain 300, however. It's hard to tell whether director Noam Murro, whose only previous feature was the talky dramedy Smart People, was steamrolled by producers and/or studio executives who merely wanted more of the same, or stands sincerely behind each choice, but his film lacks personality and feels like the work of a dutiful mimic.
The dark-eyed Green has an easy touch with malevolence, and she makes Artemisia a worthy femme fatale, even if tongue-kissing lopped-off heads seems a bit much. And as a grizzled physical specimen, Stapleton is a fine match for the film — he looks like he stepped out of some beefcake firemen's charity calendar. But he doesn't have the innate charisma of Gerard Butler, who made such a strong impression in 300.
Ultimately, though, Green and Stapleton and especially all of the other actors are swallowed up by their surroundings, and undone by a screenplay that luxuriates in the artificial cool of rock-opera history shot up on steroids.
Production companies: Legendary Pictures, Cruel and Unusual Films, Atmosphere Pictures, Hollywood Gang Productions
Domestic distribution: Warner Bros. Pictures
Producers: Mark Canton, Bernie Goldmann, Gianni Nunnari, Deborah Snyder, Zack Snyder
Executive producers: Thomas Tull, Frank Miller, Stephen Jones, Craig J. Flores, Jon Jashni
Co-producers: Alex Garcia, Wesley Coller
Associate producers: George Perez, Mark Frazier
Screenplay: Zack Snyder & Kurt Johnstad, based on the graphic novel "Xerxes" by Frank Miller
Cinematography: Simon Duggan
Editors: Wyatt Smith, David Brenner
Production designer: Patrick Tatopoulos
Music: Junkie XL
Website: www.300TheMovie.com
Main cast: Sullivan Stapleton, Eva Green, Lena Headey, Hans Matheson, Rodrigo Santoro, Igal Naor, David Wenham, Andrew Pleavin, Callan Mulvey, Andrew Tiernan