Dir/scr: Victor Levin. US. 2014. 96mins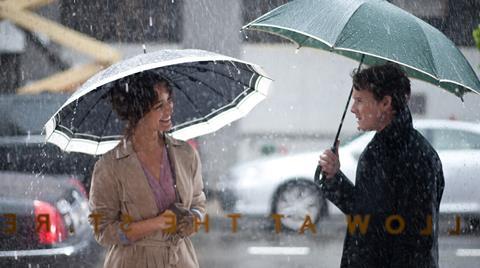 A lush cross-cultural romance all set against the dreamy backdrop of Manhattan, writer/director Victor Levin's rather old-fashioned but generously witty film ticks all of the right boxes when it comes to its literary tale of an unlikely romance, and while rather safe and straight-forward to a certain extent it is carried along by the sheer charisma of star Berenice Marlohe.
The film is beautifully shot by Arnaud Potier, giving Manhattan a suitably romantic sheen.
It may be that Anton Yelchin is the supposed lead here, with the likes of Glenn Close and Frank Langella on-board to rack up the class quota, but it is Marlohe (last seen as the doomed Bond girl in Skyfall, a film that did nothing to make use of her abilities) who lights up the screen and makes the rather inaccessibly titled 5 To 7 memorable.
The film opens in almost Woody Allen territory as Yelchin's wannabe writer Brian, whose walls of his apartment are covered with rejection letters from publishers, muses over how the best writing can be found on the dedications to be found on the park benches of Central Park. In a sweet sideways shift he simply spots a beautiful woman smoking outside a restaurant and knows he has to go and talk to her.
And so begins the unlikely romance between rather gauche Brian and the overwhelmingly classy Arielle (Marlohe). The film sets out to immediately challenge American morality with supposed French sexual sophistication – we pursues her, but when he suggests a proper date it seems she is only available between five and seven in the evening. It seems this the accepted time when classy French folk have their affairs….and Arielle happily admits that she is married to a wealthy diplomat, has two delightful children, and accepts her husband has a lover just as he will accept she has one.
He has problems adjusting to this most un-American of concepts, and is even more flummoxed when her husband Valery (an excellent Lambert Wilson) invites him to a posh dinner party at their house, attended by a selection of New York figures as even Valery's own mistress, Jane (Olivia Thirlby).
Brian gets some advice from Jane (who handily also happens to be in the literary world) who simply suggests that he enjoy the experience and perhaps it will help him be a better writer. Brian introduces Arielle to his parents – delightfully played by Close and Langella (who is there to offer up mid-West morality as disapprove of the situation) – and continues to fall more and more in love with her. It comes as no surprise whatsoever that there will be dramas ahead, and the film heads off in a completely predictable – if gently satisfactory – route.
The film is beautifully shot by Arnaud Potier, giving Manhattan a suitably romantic sheen. True this simply a story about rather privileged people having a fling, but it is elegant and witty at times, with Anton Yelchin and Berenice Marlohe delightful at times as a couple very much in love. It does lapse into romantic fiction sentimentality at times and never really surprises, but it is a charming romantic journey all the same.
Production companies: Mockingbird Pictures, Demarest Films
International sales: WME, www.wmeentertainment.com; CAA, www.caa.com
Producers: Julie Lynn, Bonnie Curtis, Sam Englebardt, William D. Johnson
Cinematography: Arnaud Potier
Editor: Matt Maddox
Production designer: Jeannine Oppewall
Music: Danny Bensi, Saunder Jurriaans
Main cast: Anton Yelchin, Berenice Marlohe, Lambert Wilson, Olivia Thirlby, Frank Langella, Glenn Close