Dir/scr: John Wells. US. 2009. 113 mins.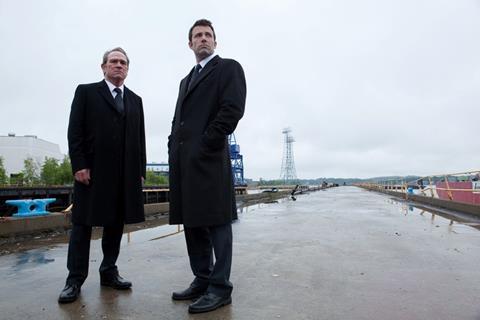 Making his feature debut after a successful career as a television writer and producer, John Wells (ER, The West Wing) tackles a potent subject with only middling results in The Company Men, a study of three white-collar executives facing corporate layoffs. Though Wells draws solid performances from a cast which includes Ben Affleck, Tommy Lee Jones and Chris Cooper, The Company Men feels too dramatically diluted to be consistently involving.
Ben Affleck has the meatiest role, and he elicits sympathy as a one-time hotshot who is forced to realise the importance of his family
While its high-profile actors should entice audiences, The Company Men's topicality may prove to be a mixed blessing commercially. High-profile downsizing drama Up In The Air, for example, has only enjoyed modest box-office success ($65m domestically) despite George Clooney's presence. The Company Men should perform well on ancillary, however, even if it does fall short theatrically.
Bobby (Affleck), a rising star in the sales department of a Boston-area transportation conglomerate, gets the bad news that he's been laid off as part of a company-wide downsizing. Used to his affluent lifestyle with his beautiful wife (Rosemarie DeWitt) and children, Bobby discovers how brutal the job market is while learning to cut back on his expenses. Meanwhile, two of his senior co-workers, Phil (Cooper) and Gene (Jones) are also in danger of losing their jobs, which causes unexpected repercussions in their lives.
Writer-director Wells found great acclaim with ER and The West Wing, but his feature debut illustrates some of the challenges inherent in switching to the big screen. His TV dramas have tended to focus on an ensemble collection of characters which are carefully developed over the series run, but The Company Men runs out of screen time when it comes to delving deeply into the men's dilemmas in a meaningful way.
Additionally, it lacks his small-screen high-stakes environments - the an emergency room, or the inner sanctum of a presidential administration. Scenes depicting the film's fictional corporation have little energy or insight, falling back on glib generalities about the callousness of large conglomerates. Consequently, Wells falters in both avenues he pursues to dramatise the pain of a crippling recession: the ordinary American worker and the faceless conglomerate.
Jones and Cooper do honourable work playing ageing warriors of the corporate culture, but with both characters under-written, the two actors mostly rely on their personas to leave an impression. Affleck has the meatiest role, and he elicits sympathy as a one-time hotshot who is forced to realise the importance of family over material possessions. But even here Wells never quite succeeds in humanising Bobby's fall from grace or evoking the debilitating emotional agony joblessness can create.
To sign up for Screen's weekly Reviews Newsletter with all the week's new releases, international openings and full festival reviewsdelivered free to your mailbox every Friday, please click HERE
Production companies
Battle Mountain Films
Spring Creek
US Sales
Creative Artists Agency
+1 424 288 2000
International Sales
IM Global
+ 1 310 777 3590
Producers
John Wells
Claire Rudnick Polstein
Paula Weinstein
Cinematography
Roger Deakins
Production designer
David J. Bomba
Editor
Robert Frazen
Music
Aaron Zigman
Main cast:
Ben Affleck
Tommy Lee Jones
Chris Cooper
Kevin Costner
Rosemarie DeWitt
Maria Bello
Craig T. Nelson