Dir: Noah Baumbach. US. 2010. 107mins.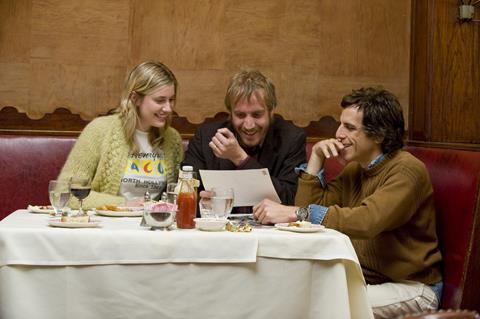 Noah Baumbach has developed a taste for exploring life's more prickly personalities, and his latest character Roger Greenberg is no different. As played by an emaciated Ben Stiller, Greenberg is an irksome fortysomething single man getting over a nervous breakdown whose battles against the world, his friends and his better instincts mask a deep insecurity.
The attention to detail in the characterisations is often forensic and none of the characters comes across as anything but damaged
What makes Greenberg more palatable than either Bernard Berkman in The Squid And The Whale or Margot in Margot At The Wedding is his foil – a good-hearted young woman called Florence, played by Mumblecore doyenne Greta Gerwig. Gerwig's schlumpy and appealing Florence softens Greenberg's edges and brings tenderness to Baumbach's world of churlish people. The eccentric couple will win a small but devoted following on the specialised theatre circuit and while the film won't break any box office records, it should do bigger business than your average Mumblecore movie.
2005's The Squid And The Whale grossed $7.4m in the US and $3.7m internationally; Margot took $1.9m domestically and $0.9m in international. Greenberg, thanks to Stiller's name and Gerwig's character, could perform somewhere in between.
The film was conceived by Baumbach and his real-life partner Jennifer Jason Leigh, who also takes a role in the film. The result is not dissimilar from The Anniversary Party, Leigh's 2001 directorial debut (with Alan Cumming) in that it is set in the alienating houses, poolsides and cars of Los Angeles. LA is the ideal backdrop for the story of two people (the film could perhaps have been called FlorenceAnd Greenberg) struggling to find their place in the world.
Baumbach initially focuses on Florence, a 25 year-old working as a personal assistant for a wealthy family in the Hollywood Hills, a job which sees her juggle the roles of housekeeper, nanny, secretary and dogwalker. When the family, led by Phillip Greenberg, (Messina) jets off on an extended vacation to Vietnam, she is left in charge of the dog and asked to keep an eye on Phillip's brother Roger (Stiller), a carpenter from New York who is fresh out of hospital after a breakdown and coming to stay in their LA house to recover.
The film switches attention to Roger when he arrives in LA and his sometimes embarrassing attempts to reconnect with his former bandmates (Ifans, Duplass) and an old girlfriend (Leigh). Greenberg is socially maddening and unable to come to terms with the fact that his life hasn't turned out as he had planned.
Slowly Florence and Greenberg develop a romantic rapport, although Greenberg's maddening inter-personal ineptitude threatens to derail them.
The Mumblecore parallels rise up throughout the film – from the presence of Gerwig and Duplass to the naturalistic performances and improvised feel. The attention to detail in the characterisations is often forensic and none of the characters comes across as anything but damaged.
Stiller has a tough task making Greenberg likeable. The actor's sunken cheeks and exaggerated facial features make Roger appear even more neurotic and defensive. Whether writing complaint letters or criticising his friends, he is ostensibly obnoxious but more vulnerable qualities emerge through his friendship with Florence. It's a brave performance but one which might be misunderstood, especially since Stiller is a mainstream movie star.
Gerwig is painfully real as the awkward young woman who wears her heart on her sleeve and Ifans is also memorable in a supporting role as the newly sober, highly tolerant friend Ivan.
To sign up for Screen's weekly Reviews Newsletter with all the week's new releases, international openings and full festival reviews delivered free to your mailbox every Friday, please click HERE
Production companies
Scott Rudin Productions
Focus Features
North America distribution
Focus Features
International sales
Focus Features International
(44) 20 7307 1330
Producers
Scott Rudin
Jennifer Jason Leigh
Screenplay
Noah Baumbach
From a story by Jennifer Jason Leigh & Noah Baumbach
Cinematography
Harris Savides
Production designer
Ford Wheeler
Editor
Tim Streeto
Music
James Murphy
Main cast
Ben Stiller
Great Gerwig
Rhys Ifans
Jennifer Jason Leigh
Chris Messina
Brie Larson
Juno Temple
Mark Duplass