Dir/scr Natalia Smirnoff. Argentina/France 2010. 88 mins.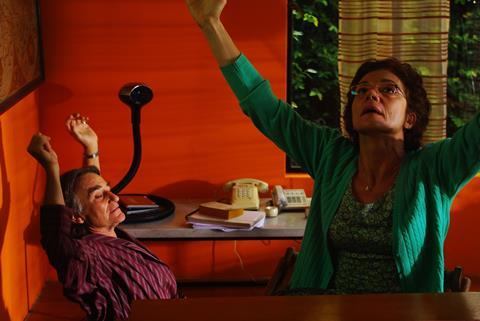 A middle-aged housewife finds a new lease of life through discovering her skills at jigsaw puzzles. That may sound like a weekday afternoon TV movie, and although Argentinian domestic drama Puzzle is slightly more distinguished than that, it's not hard to drift off while watching it and imagine who you'd cast in the remake: Julie Walters, perhaps, with Bill Nighy as her suave jigsaw mentor.
This is quite simply a film about a woman who likes doing jigsaws
A debut from Natalia Smirnoff, former AD to Pablo Trapero and casting director for Lucrecia Martel, Puzzle is a slender, unremarkable piece of feminist affirmation that represents no stretch for lead Maria Onetto. Mundane execution and mainstream approach should make it a low priority even for distributors committed to new Argentinian cinema.
The film lays its cards on the table at the start, showing Buenos Aires housewife Maria del Carmen (Onetto) slaving to prepare a birthday party – which turns out to be her own 50th. Her husband Juan (Goity) and two teenage sons are devoted, but they take Maria for granted and let her do all the work around the house, which she endures with long-suffering calm.
Then she discovers jigsaw puzzles, and when she finds an advert for a partner in a tournament, she's game. Apparently an unschooled natural, she's taken up by elderly, dashing and moneyed Roberto (Goetz), who shows her the ropes of the jigsaw world. As Carmen spends more time shuffling around little bits of cardboard, her family starts to fend for itself, the men even learning to cook. Before long, Maria is on the way to her first jigsaw trophy, with an impressed Roberto even getting, well, jiggy with her.
And, apart from a lightly bittersweet ending, that is just about it. If we were expecting Maria's hobby to become a morbid obsession with disturbing repercussions for her family, Puzzle certainly doesn't go there. Nor does Smirnoff particularly develop the metaphor of Maria reconstructing the scattered order of her life: no, this is quite simply a film about a woman who likes doing jigsaws. The characters are thin, but generally likeable: even Juan, for all his machismo, is a loving husband, played by affable blokeish charm by Goity, and there's some relaxed ensemble acting, apparently improvised, within Maria's household.
But we learn next to nothing about Roberto, except that he knows a bit about Egyptian history, and it's hard to credit any erotic spark between Maria and this dry, patrician townie. As for the humorous domestic moments – Juan confesses a propensity for tai ch'i, Maria's younger son embraces vegetarian cooking - it's all designed to elicit the lightest chuckle.
Onetto sensitively downplays the harried, hesitant Maria, but hardly gets the scope to shine as she did in The Headless Woman. Barbara Alvarez's photography is warm-hued but muted, establishing a tone of low-key kitchen-sink naturalism. The film's most distinctive touches are its incongruously hippie-ish percussion and flute score, together with a great deal of what looks suspiciously like product placement for jigsaw manufacturers Ravensburger.
To sign up for Screen's weekly Reviews Newsletter with all the week's new releases, international openings and full festival reviewsdelivered free to your mailbox every Friday, please click HERE
Production companies
Carroussel Films
La Ninas Pictures
Zarlek Producciones
International sales
Memento Films International
Tel: +33 1 53 34 90 20
Producers
Gabriel Pastore
Caroline Dhainaut
Luis Sartor
Natalia Smirnoff
Cinematography
Barbara Alvarez
Editor
Natacha Valerga
Production design
Maria Eugenia Sueiro
Music
Alejandro Franov
Main cast
Maria Onetto
Gabriel Goity
Arturo Goetz
Henny Trailes
Felipe Villanueva
Julian Doregger